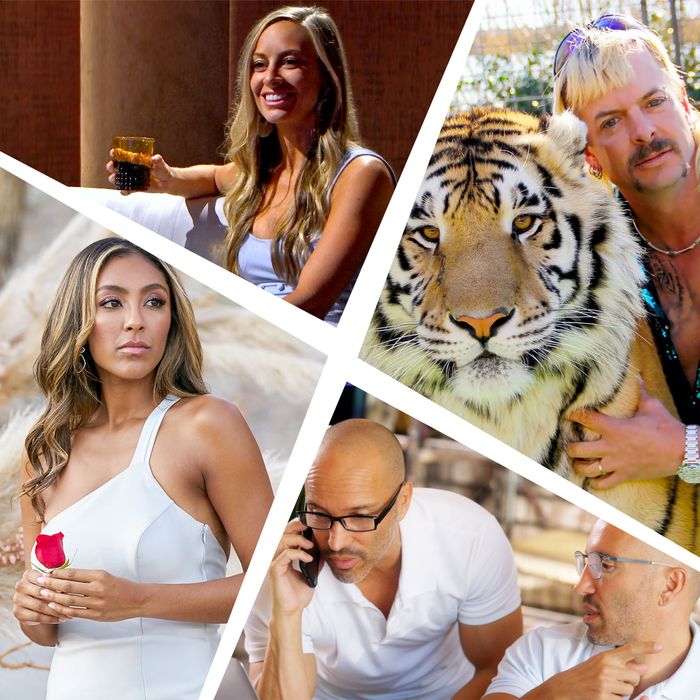 It's pretty laughable to look back now and realize that two of the earliest, pre-pandemic reality-TV hits of the year were shows based on physical and social isolation. In January, there was The Circle, the Netflix reality show where contestants are kept in separate apartments and use a voice-activated social-media platform to interact with each other and compete to become "influencers." Then, in February, there was Love Is Blind, the Netflix dating show where men and women sit alone in pods and talk to each other through the wall before deciding whether or not they want to get engaged. These premises were novel at the time. It wasn't just how we were all living yet.
Weeks later, much of the country was in lockdown. As the pandemic wore on, some shows offered escapism, while others — intentionally or not — reflected back the absurdity and isolation of our new reality. Below, a look back at some of the reality shows and characters that got us through this year, and those that might not be coming back.
Jessica from Love Is Blind feeding her dog wine
The premise of Love Is Blind was that talking to people without knowing what they look like would form more meaningful relationships, ones that are built on true connection and mutual understanding instead of just lust. After chatting through the opaque walls of their isolation pods for a while, the couples who chose to get engaged then visited each other's homes and went on trips together while they decided whether or not they should really get married.
It's a nice concept, but in practice, it resulted in moments like this: Mark, the 24-year-old fitness trainer, assuring his fiancée, Jessica, the 34-year-old regional manager, that he's mentally stable while Jessica lets her dog lap up red wine from her glass and tells Mark she doesn't want to be his parent.
"She loves wine," Jessica explained as her dog drank.
Could this wild moment have been avoided had Mark and Jessica been more forthcoming back when they were in their pods? "By the way, I feed my dog wine even though veterinarians specifically discourage it," Jessica could have said; or Mark could have asked, "Does your dog prefer a Merlot or a Malbec?" Mark didn't even blink at the dog's libations, though. He and Jessica had bigger issues.
The wild ride of Tiger King
Shortly after much of the country went into lockdown, Netflix released Tiger King, the absolutely bonkers docuseries about Joe Exotic, the polygamist, mullet-sporting, onetime presidential candidate and Oklahoma zoo owner who may or may not have put out a hit on big-cat advocate Carole Baskin, who may or may not have killed her first husband and fed him to tigers. (Exotic was convicted of murder for hire and animal abuse and is currently serving a 22-year sentence in federal prison; Baskin has never been charged in the disappearance of her first husband and denies any wrongdoing.)
It was a show many people turned to while they were stuck at home in the early days of the pandemic. People like Cardi B, who livetweeted her viewing.
Baskin went on to do Dancing With the Stars in September. She was sent home after her third performance — a dance to "The Circle of Life" from the Lion King.
Hot people not being allowed to bone
In April, Netflix asked the question: What if you throw a bunch of hot, horny people onto a beach together, but tell them they're not allowed to have sex? The answer, of course, was that some of them would still have sex.
Too Hot to Handle offered its contestants $100,000 in prize money, but they could only win it if they abstained from "kissing," "heavy-petting," and "self-gratification of any kind." For every infraction, the prize money was docked. The show included lines like "What I'm most proud of is my penis" and "I do mostly go for guys, but if a girl looks just like me, I'm so into that."
Okay, this is just like what I'm going through, thought a lot of people who were thrown into forced pandemic celibacy and whose situations weren't like the one on the show at all.
Our friends at the Oppenheim Group
Reality TV wasn't all about dating and attempted murder this year. It was also about hot people selling exorbitantly expensive properties around Los Angeles and fighting with each other. Selling Sunset follows the brokers of the boutique real-estate firm the Oppenheim Group as they navigate their demanding clients, the dissolution of their marriages to stars of This Is Us, and their hosting of events like one called "Burgers and Botox."
Technically, the show premiered in March of 2019, but it really took off this year, when its third season came out at the beginning of August. We still can't tell Brett and Jason Oppenheim apart, though.
Vanderpump Rules scandals and pregnancies
Is Vanderpump Rules, Bravo's sexy unique reality show about the sexy unique servers at Lisa Vanderpump's Sexy Unique Restaurant (SUR), ever coming back? Unclear but … all signs point to no.
The show was already struggling with how to deal with the fact that its cast were no longer young partiers who spent all their time hooking up and fighting. Now, they were older, wealthier partiers who spent all their time fighting with their significant others and buying identical homes in the Valley. For Vanderpump's latest season, Bravo introduced a few new cast members, but the show had clearly lost its luster.
Then came the scandals. In June, former SURver Faith Stowers talked in an interview about what it was like to be the only Black cast member on an overwhelmingly white show, and revealed that two of the show's stars, Stassi Schroeder and Kristen Doute, had once tried to get her arrested on false charges because they were angry Faith had hooked up with another cast member, Jax Taylor. Stassi and Kristen were then fired from the show, as were two of its newest cast members, Max Boyens and Brett Caprioni, after followers discovered some of their racist tweets.
At the same time, all of the original cast members of Vanderpump seemed to be getting pregnant all at once. Stassi and her fiancé, Beau; Jax and his wife Brittany; Lala Kent and her "Man," Randall Emmett; and Scheana Shay and her rugby player boyfriend all announced this year that they're expecting babies.
The Bachelorette's big twist
This season of The Bachelorette, which premiered in October, was one of the first major shows to be filmed entirely in a quarantine bubble. Set at the La Quinta Resort & Club in Palm Springs instead of the Bachelor's usual haunted mansion, the season started with Clare Crawley as the Bachelorette, but then, the big twist: Clare immediately fell in love with one of the contestants, former Party City model Dale Moss. The two were so enamored with each other that he proposed after just a couple of weeks, and they decided to leave the show early together.
To replace her, producers brought in sentient ray of sunshine Tayshia Adams, who found love with sweaty New Yorker Zac Clark.
Mary from The Real Housewives of Salt Lake City and her husband, her step-grandfather
When The Real Housewives of Salt Lake City was announced at BravoCon last year, people were skeptical. Could Utah possibly bring the level of drama and absurdity necessary to make a successful Housewives franchise? The answer, as we learned when the series premiered in November, was a resounding yes.
There was a fight about one woman telling another she smelled "like hospital," a debate about whether the thumbs-up emoji actually means "fuck you," and one woman hurtfully pretending not to remember another from college. But the detail that truly took the show to the next level was the fact that Mary, a young, glamorous pastor, is married to her step-grandfather.
Mary explains in the show that, before she died, Rosemary, her grandmother, asked that Mary take over the family's businesses, which included restaurants and churches, and also that she marry her husband, Robert Cosby Sr. Mary did, and now she thinks that everyone needs to just "move on," but of course no one has.
"Mary shouldn't talk about other people's family while she is laying in her grandmother's bed with her husband!" tweeted fellow RHOSLC cast member Jen Shah in November. The tweet has since been deleted.
What a year.