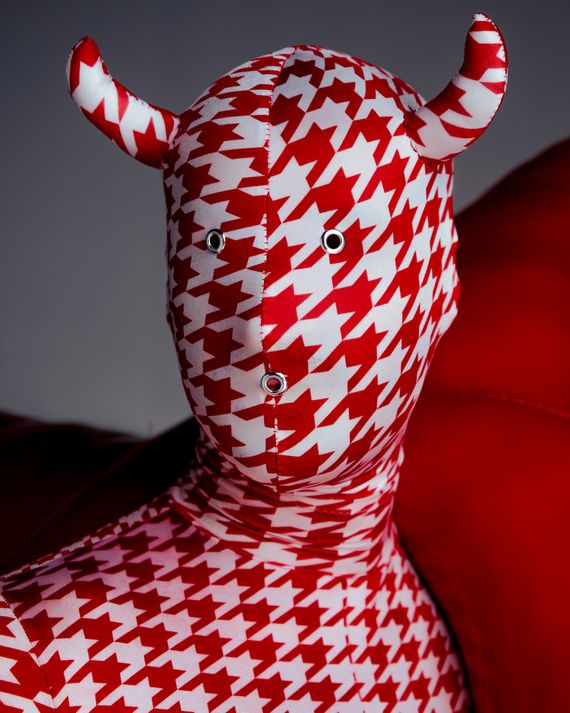 You could describe Pissy Pussy as a designer, performing artist, and former club kid, but he'd sum himself up like this: "Pissy Pussy is a Barbra Streisand–obsessed Cancerian living in Brooklyn, NY, who creates wearable art pieces." A self-taught designer, he began creating one-of-a-kind couture looks for his nightlife persona in 2016. Soon, he was making custom pieces for other performing artists, and his work was being featured in Vogue and Opening Ceremony's FW19 collection.
"I almost see my life as fantasy over reality," says Pissy. "With my looks and photoshoots, I like to create a similar sense of fantasy that my audience can submerge themselves into and escape their everyday life."
His eye-popping, body-covering wearable art pieces aren't the only thing he's working on. His most recent capsule collection features hoodies, sweatpants, ribbed tanks and face masks — in other words, the majority of the quarantine-fashion starter pack. The Cut spoke with him about Barbara Streisand, his new pug, and his "very gay and on brand" convertible VW Beetle.
What does cool mean to you? 
Cool to me means being 100 percent you. Never chase trends, never dress the way you're expected to, never act the way you're expected to.
What three creative people have had the most impact on you and why?Barbra Streisand because of literal perfection. Madonna because she taught me to be a badass workaholic. Lady Gaga because she taught me to be literally unapologetically insane.
What three fictional characters do you relate to most?
SpongeBob, Fran Fine, Peter Griffin. Anyone who knows me personally would agree I'm quite literally these three characters mixed together. They kind of built my sense of humor and personality since I was a kid.
What are the last three songs you've listened to?
Been going through a really weird Elvis phase right now in my life. I become really obsessed with things for like a week or two and then get over it and move on to my next mini obsession.
What kind of animal would you be and why?
A pug (which I guess is a specific breed of an animal but …) I have been obsessed with pugs since I was a child. I just recently got a pug baby named Jean Paul (because of Gaultier, duh!) and he is just literally me. All we do is sleep and act crazy when actually awake.
What superpower would you have and why?
I would definitely choose to fly to be able to escape NYC every once in a while without it being such an exhausting experience (assuming that flying isn't as exhausting …)
If you could master any skill (that isn't related to your current job), what would it be and why?
I would definitely have to say some sort of computer skill set. Even sending a simple email hurts my brain. I'm thinking my lack of technology knowledge is made up with what I can do on the sewing machine.
What are you doing for fun right now?
Well, seeing it's still quarantine, I usually like to just endlessly bike around. Nothing makes me happier than biking all around.
Has how you dressed changed during quarantine? If so, what are you wearing now? 
Pretty much the same: T-shirt and gym shorts everyday. Although Pissy Pussy is a fashionista, as a regular boy, I certainly am not.
Are there any causes or organizations you are supporting?
I work at a Black- and female-owned concept shop in Bed-Stuy called Sincerely, Tommy. It's a concept shop which sells a very curated selection of clothing and lifestyle products, as well as a cafe serving some of the best coffee in NYC (I'm the barista, btw). The owner has this great organization she started called Building Black Bed-Stuy which helps uplift, protect and preserve the Black community in Bed-Stuy along with Black business owners.
What goals are you working toward at the moment?
Right now, my team and I are working on the first Pissy Pussy branded apparel capsule. This will include T-shirts, undies, hoodies, etc., which will all be hand-screen-printed by us in Brooklyn. I am very excited to expand my brand into wearable everyday apparel for my following.
What are you excited about right now?
Honestly very excited for the holidays. Holidays are my absolute favorite time of the year. (I also work much harder in the fall/winter, so am very excited for more productivity as well).
Do you have a self-care routine? If so, what does that look like? 
I have a very intense skin-care routine that I follow religiously. I really have been unhappy with my face/skin ever since I can remember, and my brand with the full face masks is definitely a direct reflection of my insecurities. Hoping with age, skin care, and all the micro-needling in the world that I may become a bit more confident with my face and skin.
What is one item that has made your life better?
I would probably have to say my car. It helps me transport these huge looks all over without having to spend $150 on an Uber XL. It's a convertible VW Beetle — so very gay and on brand.