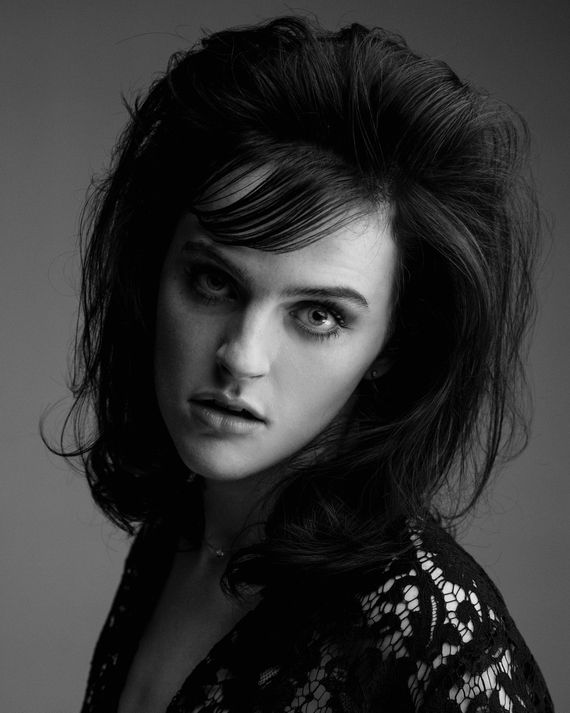 "I'm a model, but that's just where I've started," says Jake Junkins. Now 19, she moved to New York a little over a year ago and has since been featured in Vogue Italia's "100 covers" September issue and made her runway debut in Marc Jacobs's fall-winter 2020 show. Next on her bucket list: acting and writing. "Acting inspires me a lot when I'm modeling, as both disciplines tell stories. It's always fun shooting and getting to see different characters come to life," she says. The Cut spoke with her about Marc Jacobs, mind control, and why octopuses are better than snails.
What does cool mean to you? 
The coolest people I know are the ones that care the least about what others think. Their coolness comes from them knowing that they're good on their own. They have firm values rooted in love and compassion. They take care of the ones closest to them, and they stand up for what they believe in, no matter how they look. Cool means shedding the ego. I'm trying my best to get cooler by the day.
Which three creative people have had the most impact on you and why?Marc Jacobs! He's so kind, and it was so surreal being able to work with him. Janet Mock too; Redefining Realness helped me so much in high school. And Todd Haynes, because he's my favorite director.
If you were an animal, what kind of animal would you be?
Definitely an octopus. They're so cute and crazy-smart. They're kind of like super-upgraded snails.
What superpower would you have and why?
Mind control so I could make billionaires give their money away.
If you could master any skill (that isn't related to your current job), what would it be and why?
Embroidering! I've always wanted to learn but never tried.
What are you doing for fun right now?
Hibernating.
Has the way you dress changed during quarantine? If so, what are you wearing now? 
I definitely swapped for comfier clothes. Usually I wear this one oversize Rick Owens tank that feels like a cloud.
Are there any causes or organizations you are supporting?
Yes! Exhale is a group that's redistributing aid to Black femme and gender-nonconforming people in need, and @Towards.utopia is a print sale raising donations for grassroots organizations fighting for Black trans lives.
What are your favorite local businesses to support? 
Buy Better Foods on Kosciuszko in Bed-Stuy. Everyone there is always so nice, and they have a really great selection of products with an emphasis on organic and locally/Black-owned brands.
What goals are you working toward at the moment?
I have a bunch of great books that I haven't read yet, so that's my main goal.
What are you excited about right now?
I don't know if I'm excited about anything right now. I'm hopeful for the future at least.
Do you have a self-care routine? If so, what does that look like? 
I'm so bad at routines (except skin care). I just try to drink tons of water, and I like to run a lot when I get sad.
What piece of advice has had the biggest impact on you and why?Somebody told me to just take everything one day at a time. Living my days like that puts things in perspective for me.