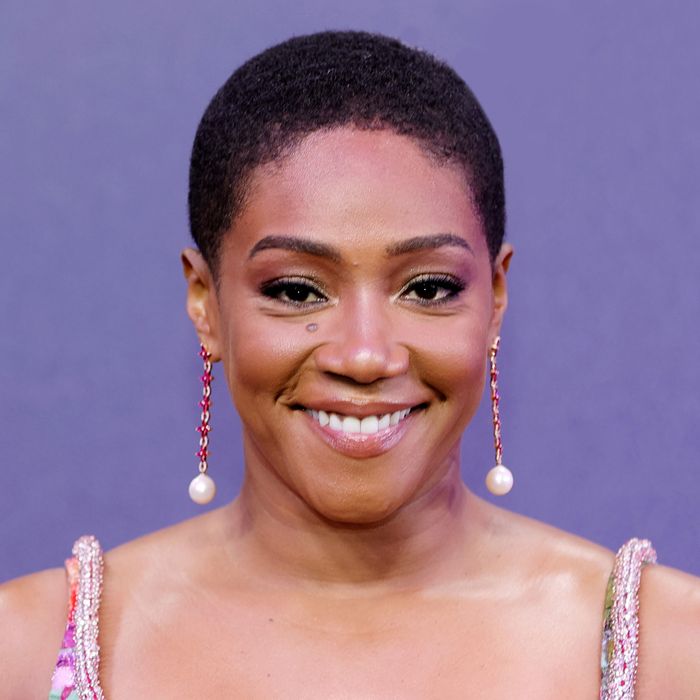 Tiffany Haddish
Photo: Rich Polk/E! Entertainment/NBCU Photo Bank via Getty Images
It seems many disputes have developed with the Grammys since the Recording Academy announced its 2021 award nominees two weeks ago. Justin Bieber? Would like to be recognized for the R&B artist he believes he is, thanks! The Weeknd? Reasonably wondering why his After Hours received not a single nod, despite his "Blinding Lights" holding a top-ten slot on the Billboard Hot 100 for the longest run of any song ever. Halsey? Pretty sure the entire awards enterprise runs on "'bribes' that can be just ambiguous enough to pass as 'not bribes.'" And Tiffany Haddish? Insulted to be offered a hosting gig but no money in return. Which, yeah, what gives?
Haddish told Variety that the Recording Academy approached her to host the Premiere Ceremony, which lasts about three hours and sees roughly 70 awards handed out. The livestream occurs before the actual Grammys and is hosted by the Academy (a nonprofit) rather than a network — a representative told Variety that past hosts and performers have not been paid either. Still, hosts of the Grammys proper reportedly receive a baseline fee of $5,000 for their three and a half hours of work and rehearsals, although they can negotiate that number — James Corden, for example, has reportedly charged $20,000 to do the job.
Meanwhile, Haddish explained that the Premiere Ceremony gig would have required her to pay for her own hair, makeup, and wardrobe. "All of that would have to come out of my pocket," she said. "I don't know if this might mean I might not get nominated ever again, but I think it's disrespectful." (The comedian was nominated for the first time last year, for The Last Black Unicorn, and her Black Mitzvah is a contender for this year's best comedy album.)
"I was like, 'The exposure is amazing, but I think I have enough. I appreciate you guys asking,'" Haddish continued. "And as much as I appreciate the honor of being nominated, that's not okay."
While the Academy rep painted the arrangement as regular, Recording Academy interim president Harvey Mason Jr. issued an apology on Instagram, explaining that he had already apologized to Haddish personally.
"It's just been brought to my attention that the Recording Academy invited Tiffany Haddish to host this year's Premiere Ceremony," he said in a video. "Unfortunately and without me knowing, the talent booker working for the Academy told Ms. Haddish that we wouldn't even cover her costs while she hosted this event. To me that was wrong. I'm frustrated by that decision. It was a lapse in judgement. It was in poor taste. And it's disrespectful."
Here, here!