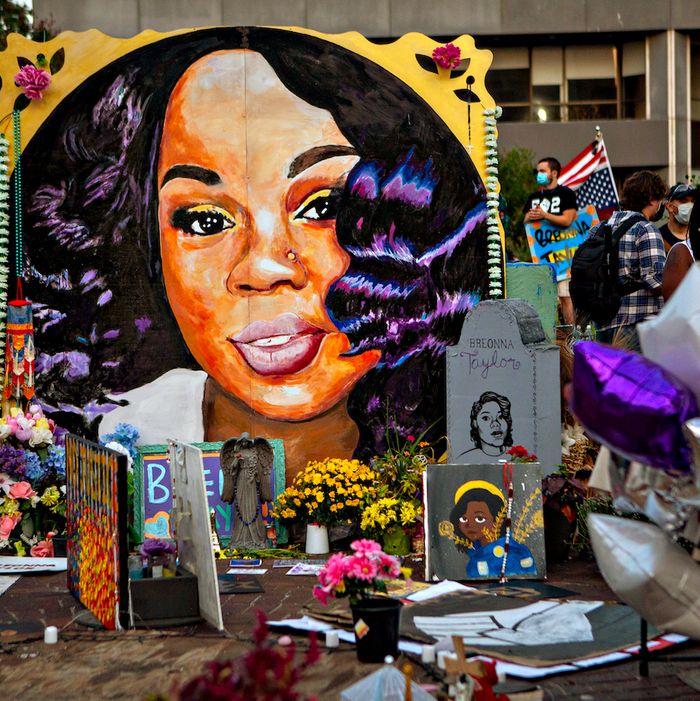 A memorial for Breonna Taylor in Louisville, Kentucky's Injustice Square Park.
Photo: Jason Armond/Los Angeles Times via Getty Images
The Louisville Metro Police Department has moved to fire two more officers in connection with Breonna Taylor's killing, nine months after the fact. According to the New York Times, LMPD interim police chief Yvette Gentry has issued letters of termination to Detective Myles Cosgrove — believed to have fired the fatal shots inside Taylor's apartment — and Detective Joshua Jaynes.
Although Jaynes did not directly participate in the raid that left 26-year-old Taylor dead, he did get the warrant for it. Jaynes was part of a unit investigating Taylor's ex-boyfriend, Jamarcus Glover, whom police believed to be dealing drugs. In a sworn affidavit, Jaynes reportedly told a judge that he saw Glover pick up a package from Taylor's apartment, transporting it to a "known drug house" more than ten miles away. He said he had "verified through a U.S. Postal Inspector" that Glover had been receiving packages at her address, securing the no-knock warrant that culminated in a trio of officers — Cosgrove, Jonathan Mattingly, and Brett Hankison — fatally shooting Taylor on March 13.
No drugs were found in her apartment, and Gentry believes Jaynes actually got his information not from the USPS, but from Mattingly, who allegedly got it from an officer in a nearby suburb.
"Having an independent third party verify information is powerful and compelling information," she reportedly wrote in his termination letter. "The inclusion of this in the affidavit as a direct verification was deceptive."
Speaking to the Times, Thomas Clay — Jaynes's attorney — denied his client had lied, saying: "They have basically tried to throw him under the bus and he's not going to fit under the bus because he did nothing wrong."
As for Cosgrove, ballistics analysis by the FBI indicate that he fired the shot that killed Taylor, but in September, a grand jury declined to indict either Cosgrove or Mattingly. Jurors opted to bring three criminal charges of wanton endangerment against Hankison — possibly because charging Hankison was the only avenue presented to them, as some jurors have subsequently alleged. Before now, Hankison was also the only officer to have been fired in connection with the case.
According to NBC, Cosgrove and Jaynes will be permitted a hearing before they are officially dismissed. But Jessica Green, head of the City Council's public safety committee, told the Times that Gentry may have more disciplinary measures planned before a permanent police chief takes over in 2021. "There are probably going to be more as this chief is on her way out, so I'm proud of her," Green said. "She did the heavy lifting that many men before her, many chiefs, have been unable to do."