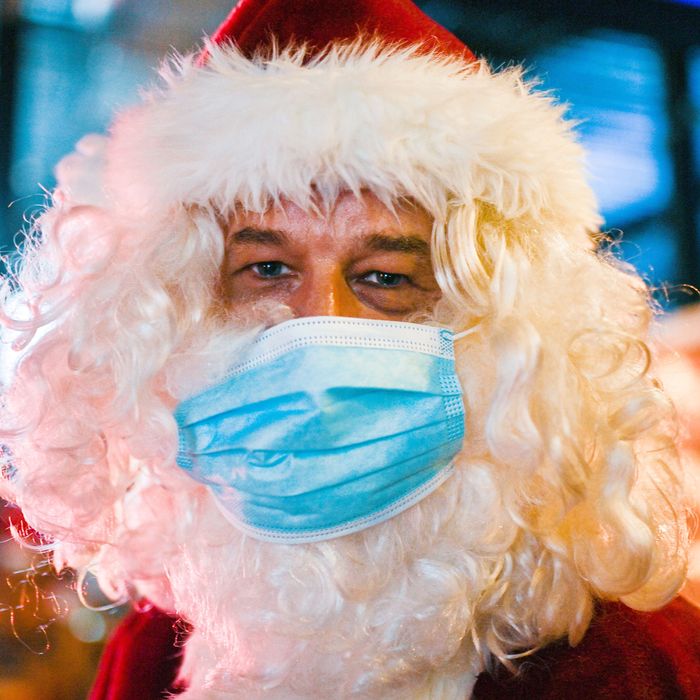 Be safe, Santa.
Photo: INA FASSBENDER/AFP via Getty Images
Not to smear Santa's good name, but it seems his surrogates have been stirring up some trouble this year. CNN reports that a Mr. and Mrs. Claus in Ludowici, Georgia, tested positive for the coronavirus two days after a "well-attended" tree lighting on December 10, where they greeted some 50 children. And although a local commissioner vouched for the Clauses' character, this is unfortunately not the first instance of St. Nick impersonators seeding accidental COVID exposures in recent days.
"I have personally known both 'Santa' and 'Mrs. Claus' my entire life and I can assure everyone that they would have never knowingly done anything to place any children in danger," Robert Parker, chairman of the Long County Commission, reportedly said. "They have both filled these roles for many years, and bringing joy to children during the holidays is one of the most important parts of their lives."
Apparently, these two weren't showing any symptoms during the Long County Chamber of Commerce parade, nor at the event that followed, where they took pictures with all those kids. According to CNN, Parker described the discovery as "cause for concern" but not "cause for panic." And while children are less likely than adults to develop severe COVID infections, they can still spread the virus around, so officials are asking that anyone who came into contact with Santa and Mrs. Claus follow CDC guidelines and quarantine.
Meanwhile, in Belgium, 61 residents and 14 staff members at a care home in Mol, Flanders, have tested positive after a Sinterklaas came by celebrate to St. Nicholas Day on December 6. According to CNN, Mol officials said that this Santa, played by a resident's son, was "not feeling sick at the time of the visit," and "maintained distance at all times from the residents." Still, although Sinterklaas allegedly "didn't remain in any area longer than a few minutes," nor "visit every room," the fallout has already been significant. One resident of the care home — who was previously on palliative care — has died, and another is said to be receiving supplemental oxygen. What's more, Mol mayor Wim Caeyers says, it seems the care home may have been looser with the guidelines than it originally admitted.
"Initially they said that the rules had been followed, but then straight away you receive photos from the families of residents where you can see that this wasn't the case," Caeyers told Belgium's national broadcaster, VRT, according to the Independent. The Santa stop "was done with the best intent, but it went wrong," Caeyers continued. "It has been a very black day for the care home" and, he added, "It is a very great mental strain to bear for the man that played Saint Nicholas, as well as for the organizers and the staff."