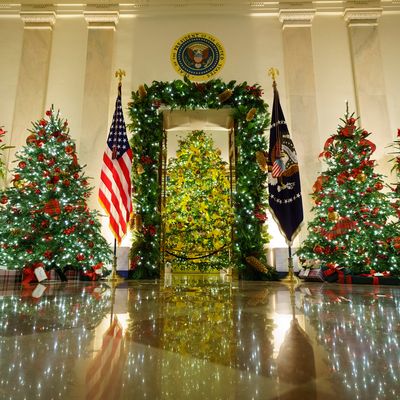 Beware.
Photo: Drew Angerer/Getty Images
Considering the White House's recent track record on event hosting, we never expected its "packed season of holiday parties" to spread cheer. For one thing, both Donald and Melania Trump are said to loathe Christmas; for another, this administration has lately averaged about one coronavirus outbreak per month, likely owing to its rejection of masks and social-distancing recommendations. Changes don't appear to have been made for its slate of festive receptions, the first of which was held this week. To judge by video from the Tuesday-night gathering, the scene is dark: Guests are clustered tightly together, faces uncovered and mouths open, as if they didn't hear that one person coughing persistently behind a Christmas tree.
The Daily Mail published the footage, which was streamed live on Facebook by national committeewoman for the Oklahoma GOP Pam Pollard. In it, Trump can be heard threatening a 2024 run to the screaming (!!!) crowd gathered inside the Cross Hall on the White House state floor. I think he also started yammering about voter fraud, but frankly the hacking happening in the background makes it hard to focus.
Here is an abbreviated version, for frights:
There are many things wrong with this picture. For one, speaking loudly — let alone at shouting volume — is believed to escalate virus-transmission rates, which becomes extra unfortunate when you consider how few people in this group opted to wear masks. And although Melania spokesperson Stephanie Grisham had promised smaller-than-usual guests lists — and mandatory face coverings and an encouraged six feet of space between attendees — Pollard captured dozens of people in her video. Far from creating the "safest environment possible," as Grisham said they would, the Trumps have created an environment ripe for viral spread — and mere days after a holiday that public-health experts foresee creating "a surge superimposed upon a surge" in the national COVID-19 case count. What's worse, gatherings like these will reportedly be happening as often as twice a day for the next few weeks. It's easily the Trumps' most cursed Christmas yet!