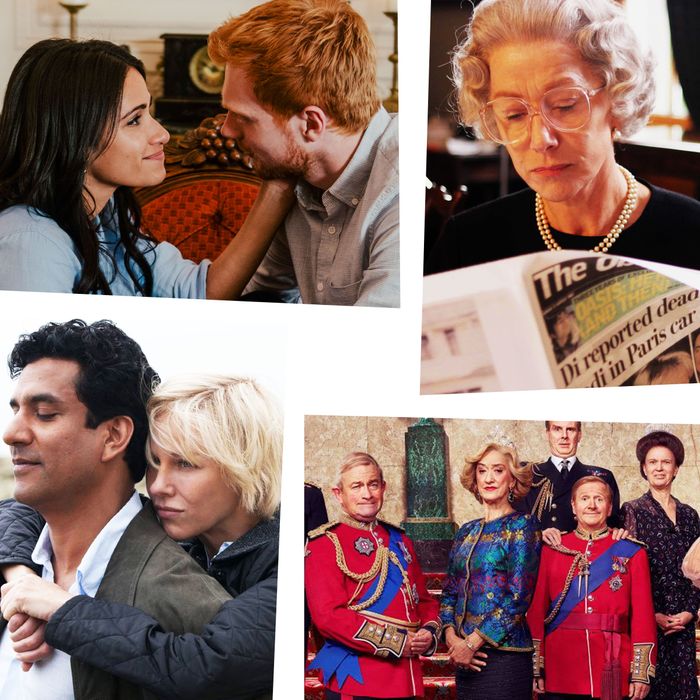 Photo: Shutterstock, Channel 4, Lifetime
So you finished watching season four of The Crown and you need more … now. We've got you covered on all things royal. Whether you want to learn more about Diana or you're looking for a royal family spoof, this queue will fill the Crown-shaped void you have. And don't worry, there are two more seasons of the Netflix show on the horizon!
Diana: In Her Own Words (2017)
This television documentary features archival footage of Princess Diana, including interviews and personal recordings. If you're looking for an intimate and personal look into her life, this is the film for you.
Available on Netflix.
The Queen (2006)
The Queen, starring Helen Mirren as Queen Elizabeth II, is a biographical drama that depicts the days following Princess Diana's death. This film shows the Queen navigating her reaction to the tragedy. Plus, Mirren won an Oscar for her portrayal!
Available on Netflix.
The Windsors (2016–present)
If you're looking for something a little funny and irreverent, this is the pick for you. The Windsors is a three-season parody show that follows the lives of the royal family in modern day. That means a ton of fictitious Harry and Meghan story lines!
Available on Netflix.
The Iron Lady (2011)
If you are now obsessed with Margaret Thatcher because of Gillian Anderson, then here you go. In this film, Meryl Streep plays the prime minister reflecting on her career in the wake of her husband's death. This one provides a nice overview of Thatcher's life if you're looking to learn a bit more about her.
Available on Netflix.
The Royal House of Windsor (2017)
Confused about who's who? Trying to understand the Windsor dynasty? Same! The Royal House of Windsor is the perfect intro into the royal family. This doc covers over 100 years of history, featuring archival footage and interviews that really dig in. You might even want to rewatch The Crown after this one … because you'll finally get it.
Available on Netflix.
Diana, Our Mother: Her Life and Legacy (2017)
In this incredibly tender documentary, Prince William and Prince Harry reflect on their lives before and after the death of their mother. This tribute to Princess Diana features home videos and insider information for the true royal connoisseur.
Available on HBO Max.
Diana (2013)
This biopic starring Naomi Watts follows Princess Diana during the last two years of her life. It follows her on her campaign against landmines and through a saucy affair. Many question the accuracy of the film, but it still offers some insight into Diana's life.
Available on Amazon Prime.
William and Kate (2011)
If you're searching for something a little corny, look no further. This Lifetime original follows Prince William and Kate Middleton during their years at university, where they first started dating. There's lots of romance, royal struggles, and the iconic St. Andrews charity fashion show where William first fell for Kate.
Available on Amazon Prime.
Harry and Meghan: A Royal Romance (2018)
Similar to William and Kate, this Lifetime original depicts Harry and Meghan's initial meeting and subsequent relationship. While there's no way to know how accurate any of it is, it'll definitely satisfy you. There's a sequel all about Meghan's transition into royal life, and the network is working on a third film about the couple's decision to step down from their roles.
Available on Amazon Prime.
Elizabeth at 90 (2016)
This documentary was made to celebrate Queen Elizabeth II's 90th birthday and covers her long and eventful life. It features video footage of Elizabeth at all ages and interviews with members of the royal family. Perfect if The Crown didn't cover enough of the monarch's life for you.
Available to rent or purchase on Amazon Prime.