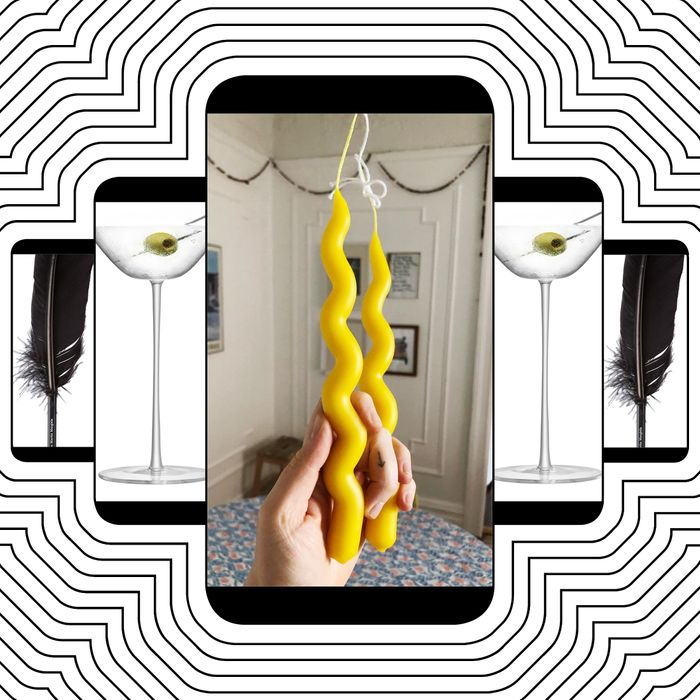 Photo-Illustration: by The Cut; Photos: Taper Freak, Ssense, Neiman Marcus
Now more than ever, people are experiencing fashion through their phones. In "Screen Time," fashion writer Emilia Petrarca shares all the screenshots, double taps, and swipes she made this week.
This week began with every online shopping addict's favorite made-up holiday: Cyber Monday. I vowed not to dive too deep. I would only dip a toe in, see what the discounts were like, and get out. What did I really need? The only justifiable answer I had was a good martini glass, since I plan to turn my apartment into a bar this winter and you really can't enjoy a cocktail if you're not sipping it from a pretentious goblet.
So I had a mission, but I quickly lost the plot — and my self-control along the way. Before I knew it, the week was over and I'd already blown through my December budget. Below, 11 of my best finds. I'm positive they'll cure my seasonal depression.
Martini Glasses for Your Home Bar
I ended up purchasing a set of average-looking martini glasses with a spill-proof rim from Bed, Bath & Beyond for 20 percent off, but I quickly regretted this decision. I think these from Neiman Marcus have more personality and look more expensive (because they are).
A Goblet for When You're On-the-Go
Really, though, the only glassware I need in my life is this glittery, $1,075 Versace travel cup. I'm sure J.Lo has already had one express shipped from SSENSE to her mansion.
Clothes For Your Plants
Here's something you didn't know you needed but absolutely do: a planter cover! Artist Benjamin Langford — who I actually went to RISD summer camp with many years ago, Hi Benjamin! — collaborated with the New York–based fashion line Collina Strada on these campy clothes for your plants that will make them look like something else. How fun! This is exactly the kind of kooky home object that you can only find in SSENSE's new "Everything Else" section.
A Feather Pen for When You Need a Break from Typing
I am SO sick of typing. All I do is typetypetype all day long. I was l0oKiNG f0R @ wAy 2 mAkE wRiTinG m0Re iNTEResTING this week, and then boom! I found this feather pen by Maison Margiela on SSENSE. Now all I need is some parchment.
A Ceramic Cinderblock With No Apparent Purpose
Virgil Abloh does it again!!! You can find this and other fashionable items on Basic.Space.
Freaky Candles for Freaky Times
I've never really been a candle person, but these little freaks by Taper Freak really spoke to me. So much that I bought one, and then another on Etsy. They're perfect conversation starters for when you have conversations with people other than yourself in your home again. Each one is hand-made with love, so order by December 10 to get them in time for the holidays!
Plus, Some Candle Holders
Of course, because I bought candle, I also needed candlestick holders. I'm obsessed with green "Depression glass," which is apparently called that because colored glass is cheaper to make. One of my most prized possessions is my grandma's Depression-era collection of green Champagne coups. These vintage candle holders from Etsy would fit in nicely.
Ummmm … Meat Candles
I learned about the Italian candlemaker Cereria Introna from our "foodie gift guide." They're a sixth generation company that's been producing lifelike candles in the shapes of cakes and sausages since 1840. This antipasti basket is maybe the best gift … ever? It's beautiful and disgusting, and I love it. Unfortunately, though, I don't think they ship to America.
And a Meat Poster
While browsing meat candles, one thing led to another and I wound up discovering the existence of a 1971 Italian film starring Sophia Loren called La Mortadella. According to Wikipedia, the plot is that Maddalena Ciarrapico (Loren) arrives in New York City from Italy with a large mortadella pork sausage as a gift for her new fiancé, but she is refused entry because of a Customs ban on meat that may cause food-borne illness. Unwilling to part with the sausage, she ends up "sparking a diplomatic incident in which she attracts widespread sympathy and support." (Talk about meat drama!) Somehow, this movie didn't receive widespread acclaim at the time, and I'm just learning about it now. But I had to have the film's cheeky poster hanging in my kitchen, and bought this rare find on eBay without a moment's hesitation.
A Project That Made Me Smile
Woolrich partnered with the new merch company Neighborhood Spot this week to highlight and raise money for six small, local businesses. I bought a Casa Magazines tote! Baz Bagel (pictured above) is also selling at-home bagel baking kits, which would make a great gift.
And a Tweet That Made Me Laugh
Total Screen Time: 3-hour Daily Average
Down 18 percent from last week. I actually don't know how that's possible.
If you buy something through our links, New York may earn an affiliate commission.