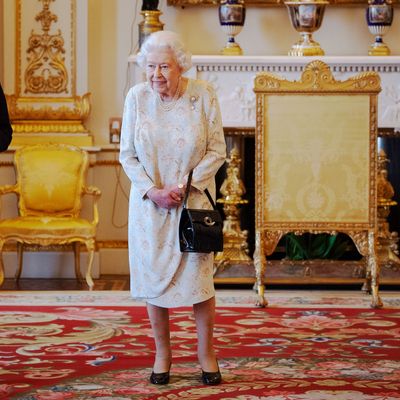 What's in there?
Photo: WPA Pool/Getty Images
When I watch The Crown, I have to do a lot of real-time Googling to satisfy questions such as, What did Margaret Thatcher's voice actually sound like? What is the deal with Princess Diana's hair? and Why is the queen carrying a handbag around in her own house? This last one vexed me throughout season four. The prop has probably been a fixture in the Netflix series since at least season three, but back then it was nothing to see, just a routine part of life. In pre-pandemic times, I too had a trusty purse that accompanied me whenever pockets failed, and maybe that made the queen's easier to overlook. In 2020, however, Olivia Colman as Queen Elizabeth II walks into her prime-minister room or marches down a palace corridor or plops down on the couch for television time and the bag on her wrist — as ubiquitous as a hair tie — screams for my attention.
Purses are foreign objects in a pandemic. I can no longer conceive of a situation in which I might remove my coat but still need to keep my valuables strapped to me. I leave my apartment with either a large go bag crammed full of all the picnic supplies that ever existed, or just my keys in my hand. And inside my home, what on earth would I need a purse for? Granted, the queen has an unwieldy number of rooms at her disposal, and I can imagine her annoyance at sinking down into a feather couch and settling in with a gin-and-Dubonnet, only to realize she left her readers and her puzzle on an end table two floors up. But then, she can summon a suite of servants at the press of a button. Theoretically, the queen never needs to keep anything on her person at all.
The mystery of the house purse having burned a hole in my brain, I brought the question to Phil Dampier, who literally wrote the book on the subject. (What's in the Queen's Handbag? And Other Royal Secrets, it's called.) "I've been reporting on the royals for about 33 years," said Dampier, a freelance correspondent who formerly covered this beat for The Sun. "And this is the subject I'm asked about most."
Dampier may not have actually seen inside one of the queen's handbags — he says she has about 200, made by the British brand Launer — but he does have reliable palace sources who can speak to their variable contents. He maintains that the queen forgoes the big three of plebeian essentials (keys, a wallet, the cell phone Prince Andrew allegedly gifted her some years back), and this gives her "a bit more room in the bag than the likes of you and I would have."
Still, she finds ways to fill the space. "Obviously, all of these things aren't in the bag all the time," Dampier warns, because, as you can see, that would be chaos. Per Dampier, contenders for the royal cargo include:
• "A small metal makeup case, one of her prized possessions" — Prince Philip had it made for her as a wedding gift — and some makeup
• A fountain pen to guard against the indignity of using a ballpoint
• Family photos, notably including a picture of Prince Andrew, rumored to be the queen's favorite, returning to England from the Falklands War "with a rose in his mouth"
• "An array of knickknacks" and "good-luck charms," most of them gifts from her children, in an animal or "horsey" theme
• Dog treats for her fleet of corgis (which is what my sister guessed when we dissected the matter via text)
• A crossword puzzle clipped from the paper by one of her aides, for "if she's got a bit of time to kill"
• A mirror
• A penknife, "a sort of throwback to her days when she was a Girl Guide"
• Glasses, both for reading and sun
• An address book
• A diary
• A small camera for her photo albums
• Mints, "in case she's got a tickly throat, if she's going to make a speech and she might cough"
And, of course, the crown jewel of the queen's handbag: an "S-shaped meathook" that Dampier says she used to pack at Prince Philip's suggestion. "She'd put the meathook on the corner of the table and hang the bag from it so she wouldn't have to put it on the floor." His sources report that she has now, unfortunately, switched to "a sort of plastic suction pad."
As to the why of the house purse, it appears to be a lifestyle choice. Dampier notes that the queen uses the accessory to subtly signal to her staff when she would like to exit a conversation, while Launer CEO Gerald Bodner has mused that "she doesn't feel fully dressed without her handbag." Fair and reasonable, but maybe it's simply that she would feel uncouth swinging a meathook through the palace halls. Only the queen knows for sure.