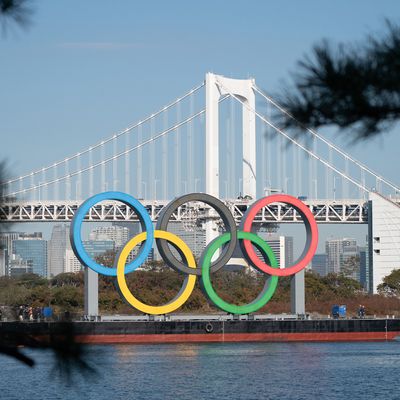 It's on.
Photo: Pierre Emmanuel Deletree/SIPA/Shutterstock
Sorry to rub it in, but once upon a time we were all set to enjoy an Olympics this year. Sometimes I think about this and I get a little sad. I mean, circumstances (the raging coronavirus pandemic) obviously did not permit, and holding the games would have been wildly irresponsible on a public-health level, but still, that doesn't fill the abs-shaped hole in my heart where the hunky Tongan flag bearer should be. However, 2021 is a new year and, fingers crossed, a better one! At the very least, it will almost certainly include the Olympics — that's according to the Guardian, which reports that the organizers of the coming Tokyo Games are hell-bent on ensuring that the show will go on.
Back in March, the International Olympic Committee announced that the 2020 Summer Games would be rescheduled for 2021 in the same location. Confusingly enough, they will still be called the Olympic Games Tokyo 2020, a gesture the IOC originally intended to "stand as a beacon of hope" amid an ongoing global crisis. In September, IOC vice-president John Coates confirmed that the sporting event would begin on July 23, 2021, "with or without COVID," a promise that admittedly rings a little ominous given the severity with which COVID-19 has recently surged around the world. But World Athletics president Sebastian Coe assured the Guardian that the organizers are hammering out a "simplified" schedule that should permit competition, particularly with vaccines on the table.
"I was very comforted that there's just a real cast-iron will to deliver these Games," Coe said. "There will probably be adaptations and changes, but they are absolutely determined to stage these Games so I have a pretty high level of confidence we will be there."
Coe did not elaborate on what those "adaptations and changes" would entail, but it seems as though bubbles have worked reasonably well in other realms of Sportsland, so maybe something along those lines? We will have to wait and see! But as for Olympic break-dancing, that's unfortunately on hold until 2024.