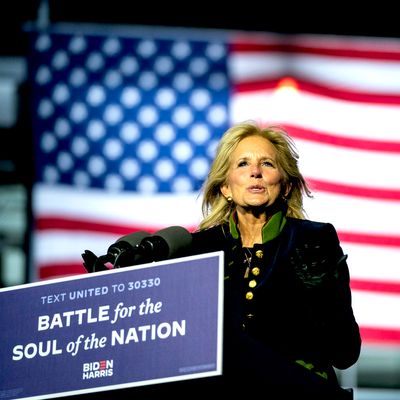 Dr. Jill Biden.
Photo: Drew Angerer/Getty Images
Today in unasked-for opinions offered apropos of nothing: One man is so agitated over Jill Biden's designation as a doctor of education that he recently wrote a Wall Street Journal op-ed advising her to "forthwith drop the doc." Entitled, "Is There a Doctor in the White House? Not If You Need an M.D.," the essay's author — Joseph Epstein, formerly the editor of the American Scholar — argues that Biden's title "sounds and feels fraudulent, not to say a touch comic." By his own admission, Epstein lacks "a doctorate or any advanced degree," but seems to consider himself an expert on the matter nonetheless.
"Madame First Lady — Mrs. Biden — Jill — kiddo," he opens his address to Biden, a 69-year-old woman. In short, Epstein believes "no one should call himself 'Dr.' unless he has delivered a child." He also suggests that Biden's Ed.D. inherently holds less prestige than a Ph.D., a degree that has in turn been "diminished by the erosion of seriousness and the relaxation of standards in university education generally." (At least in Epstein's eyes.) And don't even get him started on the purported farce that is the honorary doctorate!
To be clear, though, Biden's doctorate is not honorary. She earned it, along with two Master's Degrees, and plans to continue working as a community college professor during her time as First Lady, just as she did when she was Second Lady. No other FLOTUS has continued her pre-existing career while in office, and critics of the op-ed have decried it as emblematic of sexism in academia. On Twitter, where the piece has been trending after its publication on Friday, soon-to-be First Gentleman Doug Emhoff speculated that "this story would never have been written about a man."
In the aftermath of the editorial's publication, another of Epstein's bad opinions has been making the rounds online: A 1970 piece for Harper's in which Epstein explained why he "would wish homosexuality off the face of this Earth" if he could. Oh?
While Biden herself has not commented on Epstein's suggestion, her spokesman Michael LaRosa called it a "disgusting and sexist attack," tweeting at the Journal: "If you had any respect for women at all you would remove this repugnant display of chauvinism from your paper and apologize to her."
The Journal has not removed the article, although it has since published reader responses in support of Biden, under the banner, "The 'Dr.' Is in — the Next First Lady Earned It." But the author's former employer, Northwestern University (which has since wiped mention of Epstein as an "honorary emeritus lecturer" from its website), has now issued two statements condemning the writer. "Northwestern is firmly committed to equity, diversity and inclusion, and strongly disagrees with Mr. Epstein's misogynistic views," the University said, pointing out that he was "never a tenured professor and has not been a lecturer here since 2002." Further, the school noted that "the designation of doctor is well deserved by anyone who has earned a Ph.D., an Ed.D., or an M.D." The English Department agreed.
"The Department is aware that a former adjunct lecturer who has not taught here in nearly 20 years has published an opinion piece that casts unmerited aspersion on Dr. Jill Biden's rightful public claiming of her doctoral credentials and expertise," the statement reads. "The Department rejects this opinion as well as the diminishment of anyone's duly earned degrees in any field, from any university."