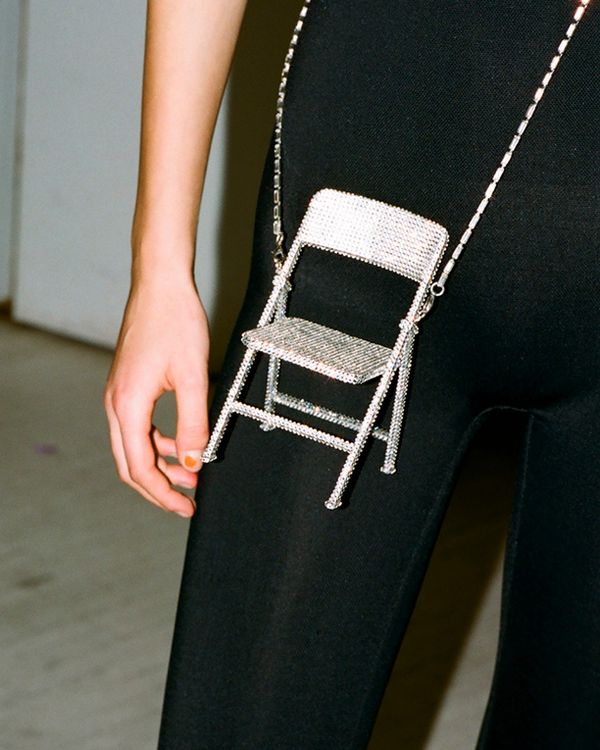 Photo: Stanislaw Boniecki
Designers have sent some absurd things down the runway, back when runways were a thing. The Cut's fashion news writer, Emilia Petrarca, has a history of Instagramming some of the wildest in recent memory — like Vaquera's bouncy, mountainous gown, Moschino's TV-dinner robe, or Matty Bovan's wearable window drapes. Items like this usually exist to go viral, to make an artistic statement — a critique of capitalism, in Vaquera's case — or perhaps both. But rarely do they actually go into production, for actual people to actually buy.
Area's tiny bedazzled folding chairs are a rare and delightful exception. During the last IRL fashion week, models wore the chairs as crossbody bags in brand's fall 2020 runway show. And now it's my pleasure to share that they're available to purchase for $895.
Before you stop reading and rage-scroll down to the comments section, let's just breathe, make some things clear, and appreciate this moment. The chair was accompanied by similarly bedazzled chair earrings and human-size chairs for sitting at the show. It was an artistic statement, OK? (You could argue that the price tag simply adds to the artistic-statement-ness of it all.) Myreality's Harry Nuriev and Tyler Billinger, the minds behind the Balenciaga furniture at Art Basel Miami, collaborated with Area's Beckett Fogg and Piotrek Panszczyk. "We were like, 'Want to do the biggest fuck-you to the mini bag?'" Billinger told Vogue back in February.
Now, given my current tax bracket, I am not about to buy this object. But if I were rich, I probably would, because I'd like to show it off as part of my wide-ranging art collection. Say a guest came over, I'd grin mischievously before whipping out my little glamorous chair and asking, "Need a seat?" For such moments, if you have $895 to spare, consider buying the chair bag below.