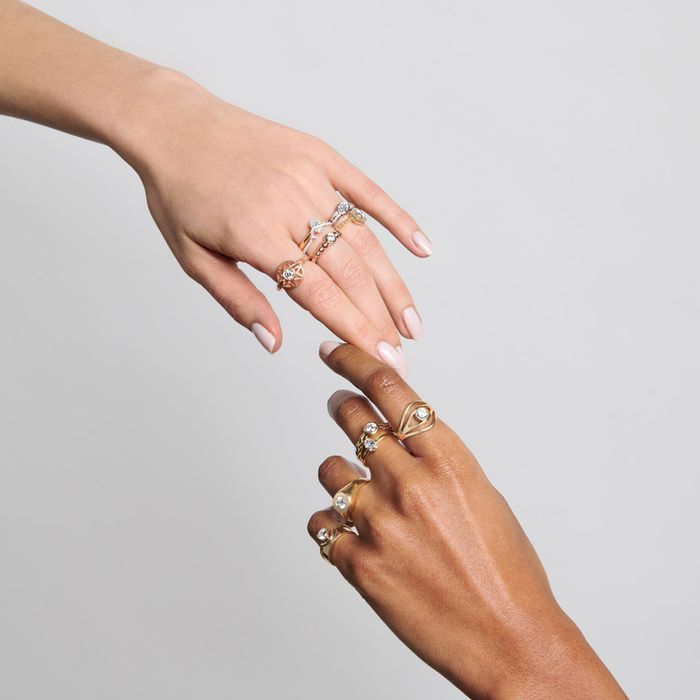 Photo: LITTLE WOLF COLLECTIVE
With conventional weddings on pause for the pandemic, it's a good time to reexamine the traditions behind them and wonder which ones will make it into the future. Diamond rings probably aren't going anywhere, but as consumers become more environmentally conscious and interested in ethical production, the demand for sustainably produced jewels is just going to rise.
That's part of the ethos behind the Ten/Ten program, which asked ten independent jewelry designers to reimagine the classic engagement ring in a way that resonates with a new generation of couples. Each designer created a commitment band that honors the symbolic unity of love but from a modern perspective and with an accessible price point. Each ring contains an ethically sourced diamond from Botswana that comes in at just under one carat. The mining process of the natural diamond is integral to the ring, and the designers worked to honor the journey of the precious stone from the ground to its place on your finger.
"If we are taking these precious materials out of the earth, it had better be for a good reason, and we had better do well by the people extracting them for us," said Pamela Love, one of the featured designers.
The jewelry-makers participating in the project come from a variety of backgrounds and design styles but are unified in their commitment to responsible sourcing practices. Ten/Ten's emphasis on the origin of the diamond was a driving force for many of the designers involved in the program.
"As a person of African heritage, I love the idea of helping people from a country where diamonds have contributed to a culture and set up its people," explained designer Lauren Harwell Godfrey.
The collection of 100 rings was made with the support of the De Beers Group and is available for purchase exclusively from Blue Nile.