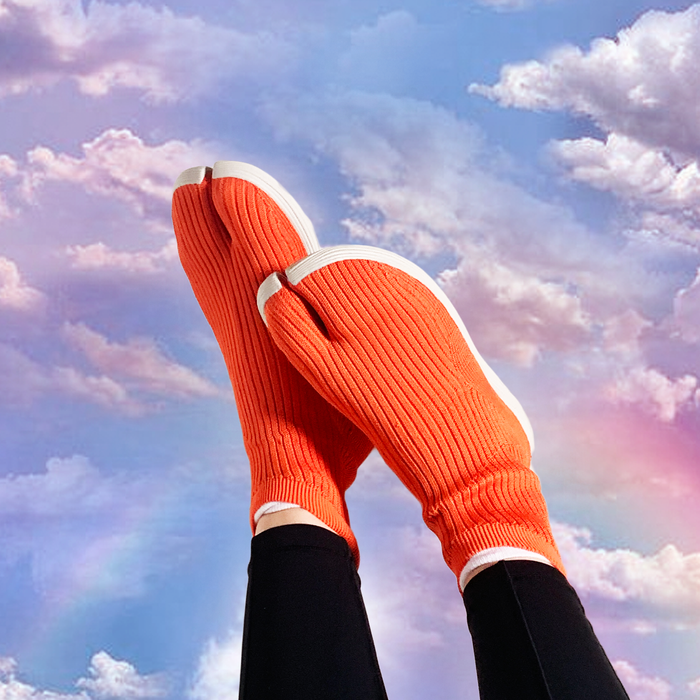 Most of us might not be ready for Balenciaga's "toe sneakers" just yet, but freaky footwear has its devoted followers — just look at the success of Margiela's tabi, or, on an even bigger scale, those Balenciagas that look like socks. Creative studio and footwear brand ILYSM is here to make ugly-cool barefoot shoes a little more accessible with a tabi sneaker that costs under $100 and is made from recycled materials.
The shoes may remind you of their cult-y designer predecessors, but the split-toe tabi silhouette has been around long before Margiela. It has a special place in Japanese history as the first rubber-soled shoe in Japan, worn by blue-collar workers. It wasn't until 1988 that Margiela introduced his heeled tabi for his spring-summer 1989 show and the style became synonymous with luxury freakiness.
Fashion brands usually follow a traditional cycle — design the product, manufacture it, and then sell it by investing in look books, celebrity campaigns, and social-media content. But ILYSM co-founders Alice Wang and Sara Jaramillo, who has previously designed for Proenza Schouler and Yeezy, operate more authentically by collaborating with and supporting their creative friends, whom they often feature on the brand's Instagram page. It's an inclusive, appealing club of weirdos — follow them long enough and you'll want to hang out with them while, of course, wearing your matching tabi sock-sneakers.
At $99, the sneakers feel accessible and desirable but not too hypebeast-y. Knit from recycled polyester yarn upcycled from postconsumer plastic-bottle waste, they come in fun colors like lime, orange, lilac, camel, white, and black. Is it freaky? Yes. Do I want a pair? Also yes. Shop it below.