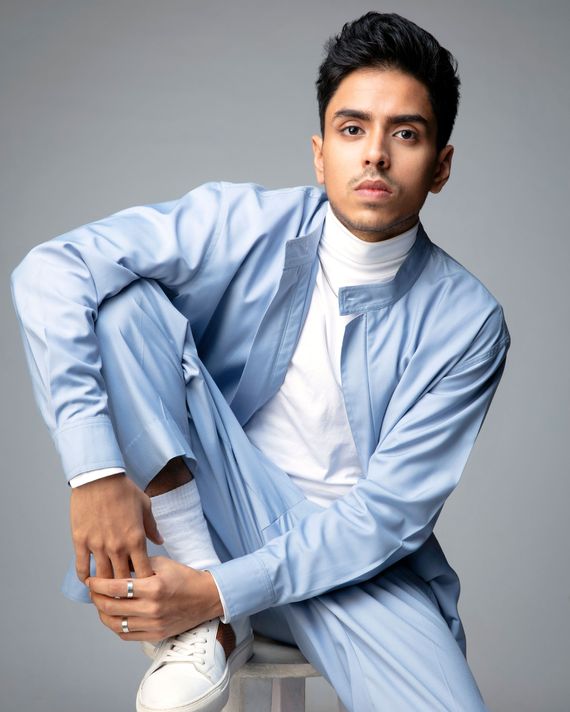 Photo: Rahul Jhangiani/Netflix © 2021
It's late in Bombay, and Adarsh Gourav is tired because he's on Hollywood hours these days. Still, his eyes are bright and he's smiling a big, earnest smile, showing teeth that are very white and a little bit crooked. We're talking on video, but it's still possible to ascertain his energy, a curious cross of giddy and self-serious.
I first saw Gourav a decade ago when I went to see the Bollywood hit My Name Is Khan at the movies. It wasn't often that an Indian film was distributed widely enough in the States to make it to my local theater, and maybe that's why I remember it so vividly; it was a special occasion, a big deal. My Name Is Khan was, I know now, a Bollywood movie made for a Hollywood audience, a post-9/11 story of an Indian Muslim man with Asperger's mistakenly arrested as a suspected terrorist. At the time, Gourav was 15 and playing a young version of the protagonist. I was the same age, and I remember thinking he was handsome.
Now 26, and still handsome, Gourav has gone on to star in a dozen productions, mostly Indian films and shows. And today, with Netflix's The White Tiger, he's making his mainstream U.S. debut.
Gourav plays Balram, a precocious young man who escapes his impoverished life in rural India by becoming a servant and chauffeur to a wealthy family. Bollywood regular Rajkummar Rao is Ashok, the family's youngest brother, and Priyanka Chopra Jonas is Pinky, Ashok's wife. They're the only members of the brood who don't openly abuse Balram — sometimes going so far as to defend him — and for that, Balram worships them. It's only when they ask him, ever so nicely, to take the blame for one of their crimes does Balram begin to question his loyalties and plot revenge.
When Gourav talks about his work on The White Tiger, it's with an astonished kind of gratitude. This posture is best exemplified by the Instagram photo he posted his first day on set: In it, he's smiling, looking at once tense and rapturous next to his famous co-stars. The caption reads: "1st reading with the team!😍😍."
I don't know if Gourav has watched the movie, but this stance is curiously deferential given he's the most interesting part of a film that feels, at times, a bit hackneyed. It's Balram's shift from grinning lackey to ruthless cynic that keeps you watching, an ugly transformation punctuated by moments of hysteria and self-flagellation that might have felt cliché without his muscular performance. He outshines his co-stars, something that Rao and Chopra Jonas have said was intentional but feels a bit antithetical to the job of a movie star.
The White Tiger is adapted from the Booker Prize–winning novel of the same name. It came out in 2008, the same year Q&A, another Indian best seller with a rag-to-riches thread, was made into Slumdog Millionaire. Nearly every critic is comparing the two films — many raving about "the-anti Slumdog Millionaire" — but it's worth noting that they share many of the same weaknesses.
Still, while six of Slumdog's eight Oscars were awarded to white people, it's heartening to know that, if The White Tiger receives any accolades, they will go mostly to an Indian and Indian American cast and crew. (A notable exception is the executive producer, Ava DuVernay.) And it is fascinating, too, to see Slumdog's wholesome protagonist shunted aside for one whose morals are questionable, who wins not by honest means but by ruthless ambition; where Slumdog's Jamal ended his story with a giddy little dance number, Balram gives us a shrug and a conspiratorial wink.
I ask Gourav about Balram now, wondering how he prepared to play a character who lived a very different life from his own well-to-do upbringing in Jamshedpur, the city he still brags that Chopra Jonas is from. The son of bankers, he studied finance while doing playback vocals for Hindi films, a gig that led him to his first audition.
Indeed, perhaps the one thing he really does have in common with Balram is his singing voice. But while The White Tiger flaunts Gourav's classically trained tenor, the actor's true love is metal. He formed his first band his junior year of high school, a small affair for which he did a lot of "screams and growls." A few years later he formed Oak Island, which got a few songs on an MTV show. I ask him what he likes about heavy metal, and he corrects me, noting that his band was progressive metal. I ask him what the difference is. "It's not as heavy as heavy metal," he says.
And so his transformation to a destitute coal miner's son was not easy, but neither did Gourav take his task lightly. He spent weeks living in a coal-mining village, an approximation of Balram's, where he fell extremely ill. When he'd recovered he went to Delhi to wash dishes at a food stand. "Sometimes I would just snap out of it and think what the hell am I doing here?" he says. "And then I'd think, no. This is exactly what Balram would have felt when he was in the village working for the chai-store owner when he knew he was meant for bigger things."
Occasionally, he'd slip into the city in search of real drivers, wearing his character's starched blue button-up and navy slacks: "I'd squat beside them and smoke a bidi with them and just talk about the most random things." Strangers, mistaking Gourav for the hard-pressed youth he was performing, would ask him for help with various tasks in exchange for a bit of money. He describes the first time this happened, when a man asked him to move some steel pipes for 20 rupees, as a turning point. "That moment it hit me, now I am Balram."
"I found myself talking and walking like Balram for a few weeks after the film finished," he explains, and when I ask him how he prepared for the film's climax — in which he commits a chilling act of violence — he shifts into Balram right in front of my eyes. "I remembered the systemic injustices that I was subjected to throughout my life. I remember how Ashok, who I considered to be a father figure, a friend, a guide, just proved to be like everybody else."
I wait for him to notice his Freudian slip. "Every character that gives and takes something away from you," is all he says, "it takes some time to come back." When he does, I wonder who he'll change into next.