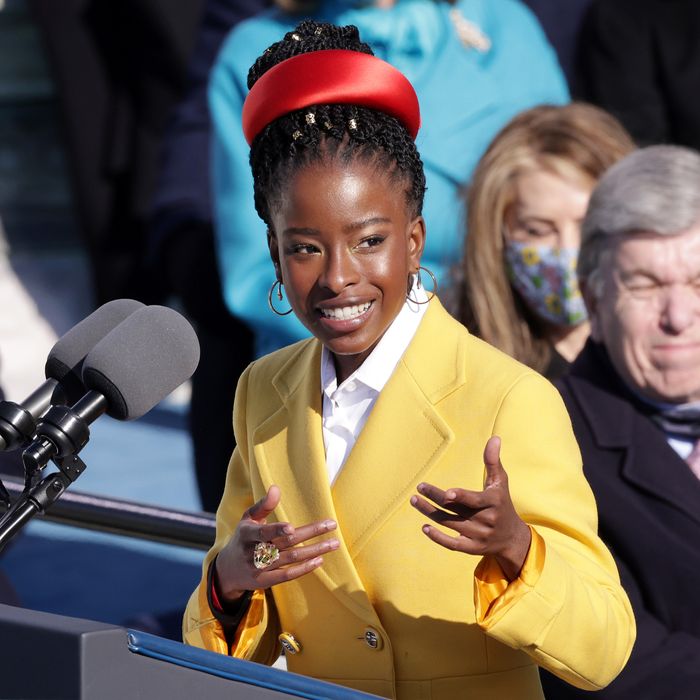 There was a lot of talk at the inauguration on Wednesday of stepping into the light, of looking ahead to a brighter future. A new dawn! It was all very heavy on the symbolism, with lots of shiny coats and brooches and bedazzled face masks. But when 22-year-old poet Amanda Gorman took the stage in a sunny-yellow Prada coat and a regal red headband, it felt as though the clouds had finally cleared. Ah, there it is! The light!
Gorman's original poem, titled "The Hill We Climb," made vivid the themes of the day. "Where can we find light in this never-ending shade?" she began. "And yet, the dawn is ours before we knew it. Somehow we do it. Somehow we weathered and witnessed a nation that isn't broken but simply unfinished."
Her words shone all on their own, but Gorman put a lot of thought into her outfit as well and how it could help illuminate her message. "I am weaving my own type of symbolism into my outfit, and it's really special and important to me to deliver these nuggets of information and sentimentality as I'm reciting the poem," she told Vogue.
She chose to wear Prada, she said, because she admires the designer's intellect and feminist position. The color yellow was a nod to Dr. Jill Biden, who recommended Gorman for the ceremony after seeing a video of her reciting a poem in which she is wearing the color.
Gorman also got some help from Oprah, who has a history with presidential poets: She gave Maya Angelou the Chanel coat and gloves she wore when she recited her inaugural poem in 1993. For Gorman, she provided some jewelry, including a pair of earrings and a ring in the shape of a caged bird — a nod to Angelou's famous book I Know Why the Caged Bird Sings.
Gorman was inspired by Angelou when writing "The Hill We Climb." Like Angelou, who was mute as a child, and Biden, who had a stutter, Gorman had a speech impediment when she was young. Now, she is the youngest poet to ever read at an inauguration.
"The new dawn blooms as we free it," Gorman's poem concluded. "For there is always light, if only we are brave enough to see it — if only we are brave enough to be it."