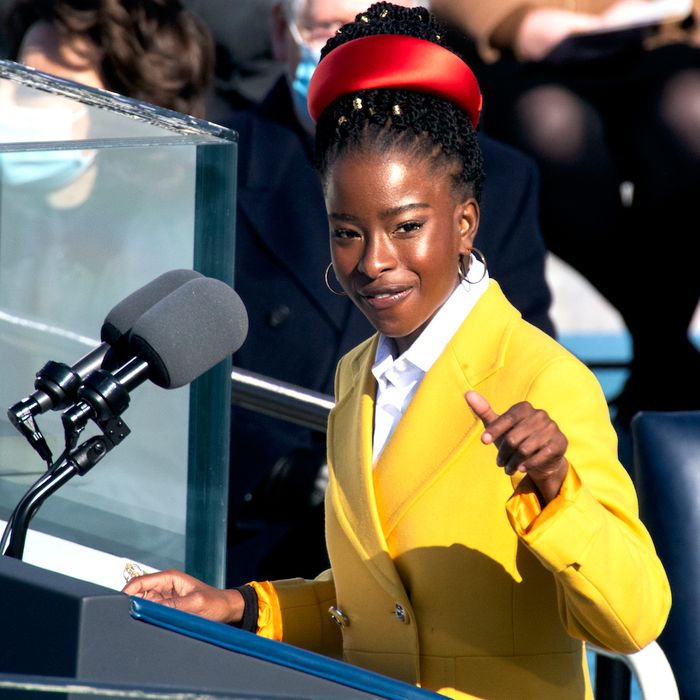 Amanda Gorman.
Photo: Tom Williams/CQ-Roll Call, Inc via Getty Images
In addition to being the National Youth Poet Laureate and Secretary of Statement Coats, Amanda Gorman is also a model: The 22-year-old has signed with IMG Models, the same agency that represents Gigi and Bella Hadid, among a slew of other big names, including tennis star and Louis Vuitton ambassador Naomi Osaka. Per a press release, IMG "will focus on building her profile through brand endorsements and editorial opportunities."
Last week, Gorman stole the show when she read her poem, "The Hill We Climb," at the inauguration of Joe Biden and Kamala Harris — making her the youngest poet ever to recite at the event. The Guardian reports that her outfit sparked a 1,328 percent increase in searches for "yellow coat" (hers was Prada), while her red satin headband (also Prada) quickly sold out.
"I am weaving my own type of symbolism into my outfit, and it's really special and important to me to deliver these nuggets of information and sentimentality as I'm reciting the poem," Gorman told Vogue, ahead of the ceremony. She chose Miuccia Prada for her "intellect and longstanding feminist leanings," the magazine said, while her ring (a gift from Oprah) featured a caged bird "to symbolize I Know Why the Caged Bird Sings," by fellow inaugural poet Maya Angelou. "I'm a Black woman with a powerful pen and a big heart," she told Harper's Bazaar, "and I like my look to reflect that pride."
In the intervening days, Gorman has also seen three of her books become Amazon best sellers months ahead of publication, and been announced as a Super Bowl performer. Gorman will read a poem honoring a nurse, a veteran, and a teacher — three "community heroes" — ahead of the February 7 game (sports!), Good Morning America reported Wednesday. According to the Washington Post, "the NFL commissioned Gorman to write the poem before Biden's inauguration," which feels … surprising! Who knew the Super Bowl did poetry! Perhaps just another of Gorman's historic firsts.