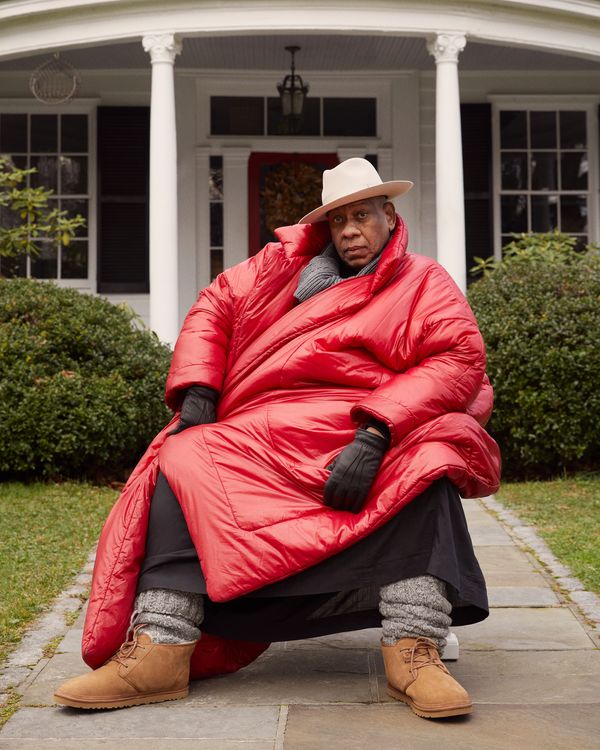 André Leon Talley.
Photo: UGG
Last Wednesday, in the midst of so much ugliness and chaos, the reveal of André Leon Talley's new Ugg campaign provided what the man himself might call a feast for starving eyes. Seated in front of his home in White Plains, New York, the former Vogue editor was photographed looking regal, confident, and comfortable in his signature Norma Kamali sleeping-bag coat, with a pair of lace-up shearling booties on his feet.
"Ugg is my Converse sneaker," Talley told the Cut on Monday afternoon, when he dialed in from his TV room with the news muted in the background. He was thinking of the way Vice-President-elect Kamala Harris wears Converse, particularly on the controversial cover of this February's Vogue. Many felt the casual cover was disrespectful, but not Talley, who has a history of loyally defending the magazine's editor-in-chief, Anna Wintour. "I love it!" he said. "I think she made the right choice."
Below, Talley discusses everything he loves (and detests) at the moment.
On Uggs:
I've been wearing Uggs off and on for about ten years. Whenever they started making them for men, I went for it. I used to wear them to Fashion Week. It was my utilitarian-chic footwear to hit the trenches of the front rows. I'm honored and I'm flattered to be the image of Ugg in 2021. I'm 72 years old and I'm a Black man. It's an unexpected, iconic image for a brand like Ugg. I understand that they're going to [shoot] other people like Iman. She's a beautiful woman. But to choose me, a 72-year-old man, it was a very big achievement in my life.
On his Norma Kamali sleeping-bag coats:
I've been wearing them for years. Years! I have three red ones and one stenciled black-and-gray one. And I have an original blue one from when she first made them in the '70s. It was always my favorite utilitarian go-to coat. Now, I live in the coat all winter long. The pandemic is full of fear, and you just want to wrap up and feel safe. Uggs do that for my foot.
On watching the news last week:
On Wednesday, I watched the news from 1 p.m. to 6:30 p.m. and I'm still not over it. I haven't slept well since. I am devastated that our country has come to this. This is history, but this is the wrong history. It was totally wrong. It was a savage mob. It was terrorism on our country's soil. One can never get over it. Everyone should be held accountable. Everyone. From the people who've been outed by their wives to the FBI to the senators to the president. Everyone.
I'm very religious — I read the Bible, and I go to church when I can — and I've always said there's going to be a reckoning and blood is going to be shed before this man is out of the White House. (I refuse to say his name because he's just a horror, and his whole administration is horrible, and one cannot associate with those people.) I didn't know how, or when, or where the situation would be, but I knew there was going to be a reckoning in this country, and it happened last week. It came as a surprise the day it happened, but I was not surprised. I expected it to happen.
On the Democratic wins in Georgia:
That was great news! This is part of the reason why [the insurrectionists] reacted so violently; they realized that a new day had come — and from the southern, white supremacist South. I know Reverend Warnock well; he was the first junior minister at my church, the Abyssinian Baptist Church in Harlem. He's a very decent, focused, and honorable man.
This is what we need: people of honor and decency in our government. A return to decency. People who care about the ordinary man. Not a Cabinet that is all one color. Not a Cabinet that is all rich billionaires.
On what he's watching besides the news:
Bridge-er-ton. Oh, it's fabulous! I watched it on Christmas night — all eight episodes until the wee dawn of the morning. On December 26, I watched half of it again. And then on the 27th, I watched the whole thing again. I love it. I love it! I think it's wonderfully cast, beautifully filmed, and in a beautiful location. I challenged my mind to figure out which houses they filmed in. The colors are great. I read that they created 7,500 costumes for the entire series. And it shows! I turned my friend Anette de la Renta onto it. I said, "You've got to watch this!" and she also became addicted. I turned everyone onto it over Christmas. It was the perfect escape.
On the Kamala Harris Vogue cover:
I love it! Anna Wintour made the right choice. I love it because that picture of her with Chuck sneakers represents the new world order — the modernity of our first female, Black, South Asian vice-president.
Times have changed. The world is more accessible; the world is more approachable. People are more approachable. Ms. Harris represents a woman of power — a woman who will be the second most powerful person in the land — but she represents an ease.
This is her uniform du jour. Vice-President Harris was on the campaign trail in those sneakers, that Donald Deal jacket, that white T-shirt, and those trousers. She is authentic and secure enough — apparently she styled her own photoshoot with her own wardrobe — and she chose to be photographed in that.
Yes, she has to dress up for the Inaugural. Yes, she's going to be dressed up for the important occasions. Yes, she dressed up in Carolina Herrera the night that they gave their speech. But, you know what, she is a woman who's 56 years old, who feels comfortable in a pair of Converse sneakers, and she makes them elegant. Therefore, she becomes symbolic of a woman who is so secure that she knows she can put on a stiletto heel and walk proudly. But she also knows she can walk proudly in comfort.
It goes back to Ugg. Ugg is my Converse sneaker. I don't want to be pretentious enough to compare myself to Kamala Harris, but that's what it is for me.
I love the pink and green background; it represents the colors of her sorority at Howard, and she's proud to have been a member. Young women and girls will see that cover and be inspired. They will think: This is what I want to be when I grow up. It's positive. It's modern. It's as minimalist and modern as a Madame Vionnet bias-cut dress from the 1920s — and we're in 2021. I was just reading about Madame Vionnet, so that's why I'm telling you that. [Laughs.] You must connect things in history. You must! You can't just sit down and take things at face value, in the way that people jump on things on the internet. I'm tired of this cancel culture. I love the cover.
On whether we'll ever see Uggs on the cover of Vogue:
I think the world is definitely moving in that direction, totally. I do believe that if Anna Wintour photographed a subject who wore Uggs, she would put them on the cover. If it was an integral part of the person's wardrobe.
On whether or not Vogue cover subjects ever get final approval:
No! No matter if you're the queen of England. This is Vogue magazine. Michelle Obama didn't get a final choice. [The cover] is chosen by Anna Wintour, who is at the helm of the magazine.
On Anna Wintour's recent promotion:
She's the empress. She's worked hard. She's gone through many battles. She deserves everything they give her. At 72, to have that job, is very, very, very impressive. I wish her all the best. I was also told that Edward Enninful was promoted as well, and he deserves it all, too. There's room for everyone. People should stop this cancel culture, because you're never going to cancel her out! Never!
This interview has been edited and condensed.