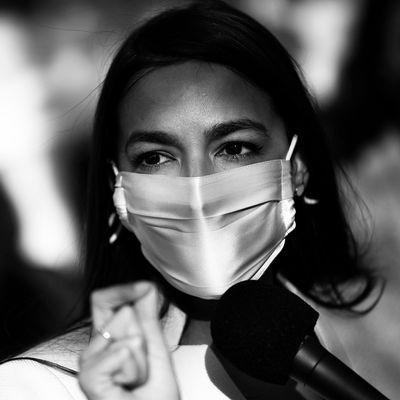 Photo: Drew Angerer/Getty Images
Yesterday, as lawmakers attended the biggest ceremonial event of the year, gathering at the Capitol in their finest coats (and mittens) to see Joe Biden and Kamala Harris sworn in, Congresswoman Alexandria Ocasio-Cortez spent the day on a picket line.
Ocasio-Cortez stayed in her home district in the Bronx to support striking workers at Hunts Point Produce Market, a massive operation responsible for handling 60 percent of the city's produce. Fourteen-hundred workers represented by the Teamsters Local 202 union walked off the job on January 17 in protest of management's refusal to grant them a $1 wage increase and expanded health-care coverage. On Monday, the NYPD attempted to brutally break up the picket line, with dozens of officers dispatched to arrest strikers.
First, Ocasio-Cortez was spotted at a Bronx Costco stocking up on supplies (hot chocolate and coffee, specifically). Within a few hours, she was rallying with strikers. "When you're standing on this line, you're not just asking for $1 — you are asking for transformational change for your lives, over the lives of every food worker across this country, for kids or food workers across the country," she told workers through a bullhorn, according to Gothamist. "Because there's a lot of things upside down right now in our economy. And one of those things that are upside down … is the fact that a person who is helping get the food to your table cannot feed their own kid. That's upside down."
The Hunts Point Produce Market has been the site of hundreds of COVID-19 infections, and several members of the Local 202 have died from the virus. The work at the market has been described as "backbreaking," with employees moving around 300,000 pounds of fruits and vegetables daily. Union spokespeople say that if the strike continues, grocery stores across New York could receive less produce by the end of the week.
John Sorrentino, a tractor-trailer driver participating in the strike, told The Wall Street Journal, "I know what I deserve and what I should earn. I feed New York. When you go to your grocer tonight and you get your apple and your bananas and your organic kale, you can think about me and the drivers at Hunts Point Produce Market that bring it in every day and work through a pandemic."