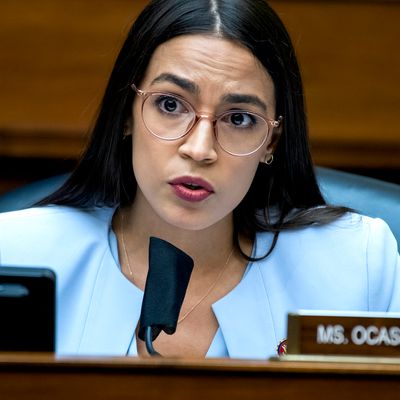 Alexandria Ocasio-Cortez.
Photo: Tom Williams/CQ-Roll Call, Inc via Getty Images
Ahead of the January 6 insurrection at the U.S. Capitol, Texas senator Ted Cruz functioned as a bullhorn for Donald Trump's baseless claims of election fraud. He spearheaded a cohort of congressional Republicans seeking to block Joe Biden's certification. He stuck to that line when speaking to the media, to the public, and to his colleagues in the minutes before the attack broke out. After the fact, he described "the president's rhetoric" as "irresponsible" and "reckless," but a number of lawmakers nonetheless see Cruz as complicit — Alexandria Ocasio-Cortez included. The New York representative subsequently disclosed that she "had a very close encounter where [she] thought [she] was going to die" during the riot, and that she feared certain congressional Republicans "would create opportunities to allow [her] to be hurt, kidnapped" if they knew where she was hiding.
So! With all that in mind, AOC firmly rejected the flimsy gesture toward unity (?) Cruz offered on Twitter today, with the caveat that she would be "happy to work w/ almost any other GOP that aren't trying to get [her] killed."
The issue at hand: the GameStop stock debacle, naturally. On Thursday, Ocasio-Cortez tweeted a call for a probe into the trading app Robinhood, which restricted nonprofessional investors from buying GameStop and other "meme stocks," in apparent deference to hedge funds. Cruz then retweeted her, saying: "Fully agree." AOC responded with a hard pass, advising him to "get off [her] timeline & stop clout-chasing," and also, to resign.
"I am happy to work with Republicans on this issue where there's common ground, but you almost had me murdered 3 weeks ago," she wrote. "You can sit this one out."
"You haven't even apologized for the serious physical + mental harm you contributed to from Capitol Police & custodial workers to your own fellow members of Congress," she added.
While Cruz did not respond on Twitter, he did see the thread. He reportedly remarked to Capitol Hill reporters: "You know, there's a lot of partisan anger and rage on the Democratic side. It's not healthy for our country, it's certainly not conducive of healing or unity, but everyone has to decide how they want to interact with others."
And to think it was only last week that Cruz was beefing Seth Rogen for behaving like, how did he put it again? Oh right, "a Marxist with Tourette's," that was the tweet.