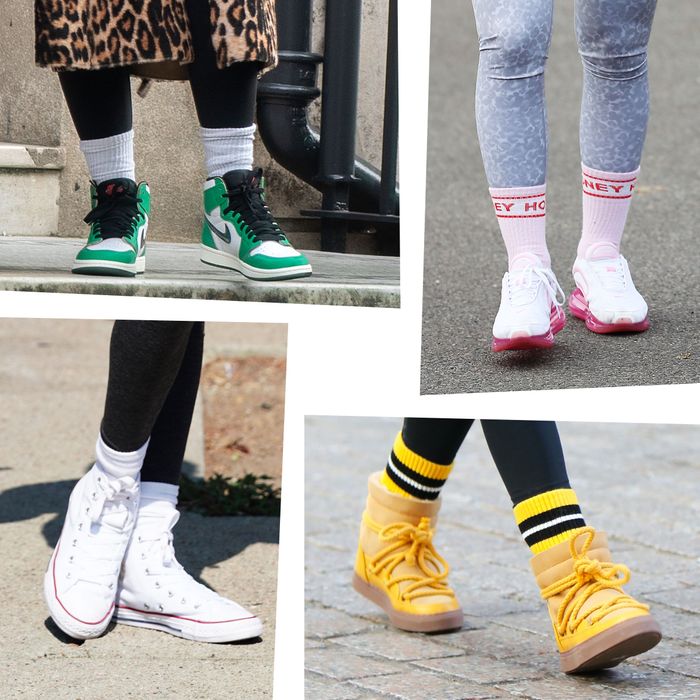 Photo-Illustration: by The Cut; Photos: Getty Images
There are many, many trends from my suburban high school that I have never missed (chief among them puffer vests and hair tinsel), but socks over leggings is one I could have held onto. Back then, it was a way to ensure your Juicy Couture stockings would be noticed, but I do wonder — as I consider my cold, pink ankles — if there was more to it than that.
I'm thinking about this because of my cold, pink ankles but also because the wearing of ankle-length stockings over leggings (and usually under sneakers) is re-emerging as a rather trendy styling trick. Consider Bella Hadid, pumping gas with mid-calf Ralph Lauren socks over leggings and Emrata running errands with an indigo pair over hers. Kaia Gerber has been doing this since February, while influencers — of the fashion, fit, and mommy variety — seemed to have embraced the look this winter:
Now, it is showing up in the wild. A colleague of mine who lives in Cobble Hill reports that socks over leggings are being sported by many a trendy mom in her neighborhood, so I carried out my own investigation at the 57th street Whole Foods in Manhattan. There, over the course of 15 minutes, I spotted four athleisure-clad women — most of whom seemed to be in their 20s and none of whom seemed to be leaving or headed toward exercise — wearing thick black ankle socks over their expensive running tights.
Like the compression-shorts trend, it seems like an athleisure-styling trick for the chic errand runner, and, frankly, if my poor little ankles can be warm again while also making me look cool, I'm ready to go all in.