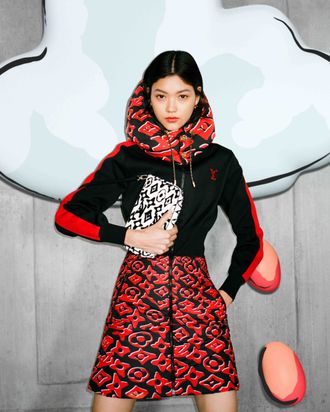 Photo: Pierre-Ange Carlotti
Since its creation in 1896 by George Vuitton, Louis Vuitton's signature monogram has hardly changed. Sure, there have been some slight modifications to color combinations and the size of the letters, but a new collaboration with Swiss artist Urs Fischer is its first total reimagining in 125 years.
Fischer is known for a subversive approach to art, distorting and disorienting everyday objects and pop culture imagery, so he's a fitting choice to collaborate with the French heritage brand on this capsule. With hand-drawn versions that he calls "memory sketches," Fischer reappropriated the monogram's flowers, quatrefoils, and LV initials. The result is a pattern that seems to float and move before your eyes.
The bold print, which comes in black-and-white and black and red, is smattered on a wide range of leather goods, sporty ready-to-wear, shoes, and accessories. It's all available online and in select stores, which Fischer transformed with high-tech displays and sculptural elements to celebrate the new collection. Shop it all here, or visit the Soho Louis Vuitton store at 122 Greene Street in New York.