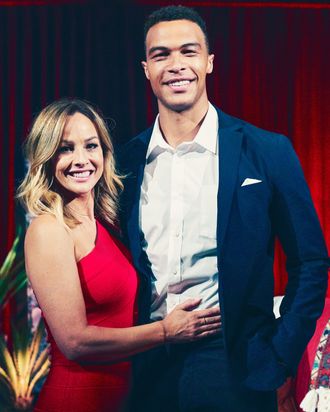 Clare Crawley and Dale Moss.
Photo: Craig Sjodin/ABC
Damn. Call me old-fashioned, but I guess I always felt like if you got engaged to someone you met briefly on a nationally televised dating show during a global pandemic, you two were set for life. It's the classic romance story we all know and love. Yet it seems even this rock-solid foundation doesn't guarantee a happily ever after. Yes, I'm sorry to say that former-bachelorette Clare Crawley and her fiancé, Dale Moss, the former Party City model for whom she left the series early, have split.
According to E! News, Clare and Dale have decided to take some time apart while they figure out the logistics of their relationship and whether it makes sense for them to move forward as a couple.
"Clare and Dale have been fighting a lot recently," one source told E! News. "They are mainly in disagreement over lifestyle preferences. Dale wants to be in a lively city and focus on his career, and Clare is rooted in Sacramento to help care for her mom. It's been very tense recently between them."
The source added that while Dale cares a lot about Clare, he "feels like he's rushing into something he's unsure about."
Dale confirmed the news on Instagram hours later, writing in a post that "Clare and I have decided to go our separate ways."
"We appreciate the love and support we've received from so many people, but this is the healthiest decision for both of us at this time."
Clare was the original star of this past season of The Bachelorette, but her tenure was short-lived. After falling head-over-heels in love with Dale the first night they met, Clare proceeded to ignore the other guys so she could spend more time making out with Dale, and the couple eventually decided to bail on the show early so they could be together. After Dale proposed in the courtyard of the La Quinta Resort & Club, the couple left, and Tayshia Adams was brought in to reinvigorate the season. She eventually got engaged to a sweaty but sweet man, Zac Clark, and the two still appear to be going strong, or at least jogging together regularly.
Party City has yet to comment on Dale and Clare's separation.
This post has been updated.