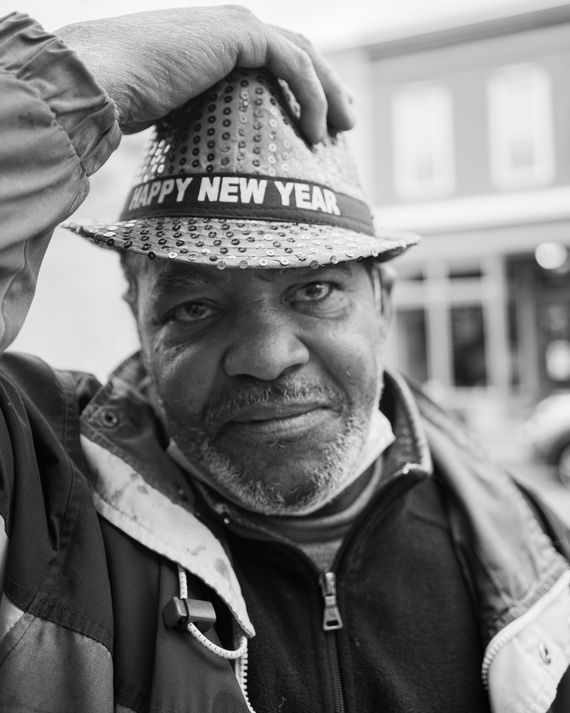 Midnight on January 1, 2021, was unlike any other in recent history. To document the passing of time after a year when time itself seemed both fleeting and endless, the Cut asked photographers around the world to capture their intimate, unforgettable celebrations.
On New Year's Eve, photographer Shan Wallace, 29, went out for a walk in her hometown of Baltimore, Maryland. The weather was gloomy and cold. "The streets were pretty dead," she said. Her first stop was Lexington Market, where she gave a new friend, Mr. Leo, a copy of a portrait she'd taken of him a few weeks prior. Then she passed by Royal Farms Arena ("terrible name"), where she spotted a man named Mark selling glittery 2021 hats. She brought one — why not? — to "help ring in the New Year in style."
Next, Wallace headed over to East Baltimore, where she came across a small, empty vigil. "It was clear that the city is still mourning and trying to push through to 2021," she said of her journey. "We are grieving, but we're still surviving."
Upon arriving home, Wallace put on her Old Bay apron and opened up her favorite cookbook, Farm Girl in the City: Of Food and Love. With her new glittered hat on her head, she began preparing a large meal for herself and her partner: sweet-potato casserole, plus corn bread and collared greens. Her dad stopped by for a visit. "Normally, I'm out partying and have a good time," she said. "But since I'm home this year, I figured, Let's cook some meals and keep the holiday traditions going."
A little before midnight, Wallace set up a Zoom with friends who were celebrating in different states. Someone played DJ, and champagne was popped. "It was a celebration of the small things," she said. "The small joys we take for granted." She was asleep by 12:05 a.m.