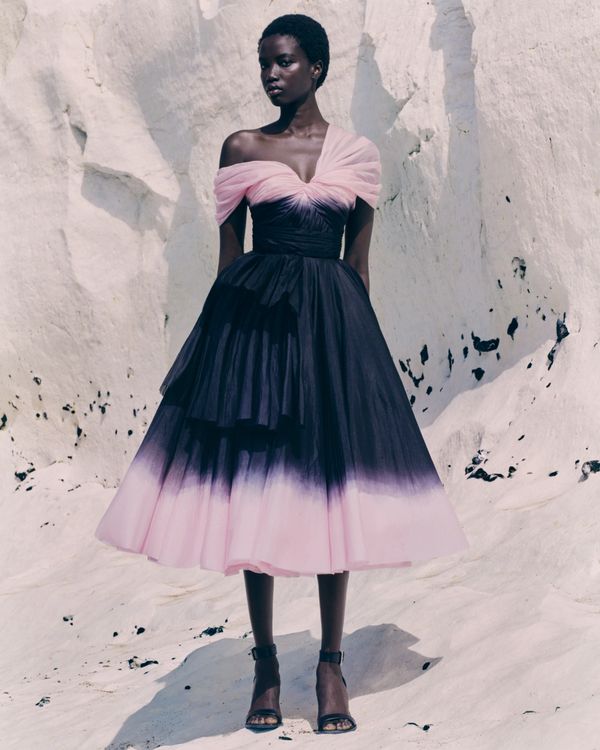 Photo: Chloé Le Drezen/Alexander McQueen
Think about what a typical WFH setup looks like for the typical mid-level employee: a makeshift workspace, a laptop that's slowly losing its keys after months of lockdown. And then … kindly forget about it. For Alexander McQueen's couture designers, working from home looked very different.
When the world shut down last year, the London-based brand sent stock fabric to designers' homes, where they went to work on the pre-spring 2021 couture collection with a make-do kind of spirit. While many kept busy learning new recipes, the McQueen designers turned their kitchens into fabric cutting tables. And while many found peace tending to Mother Earth, the designers' gardens became dip-dying stations — all to create a collection full of McQueen's signature masculine tailoring and princess dresses in mid-20th-century silhouettes.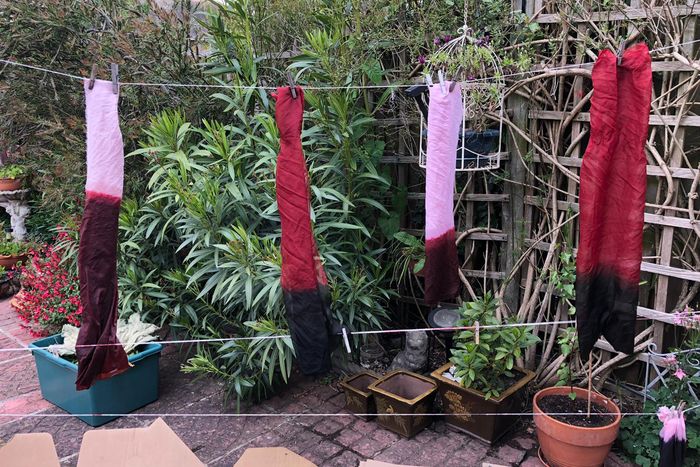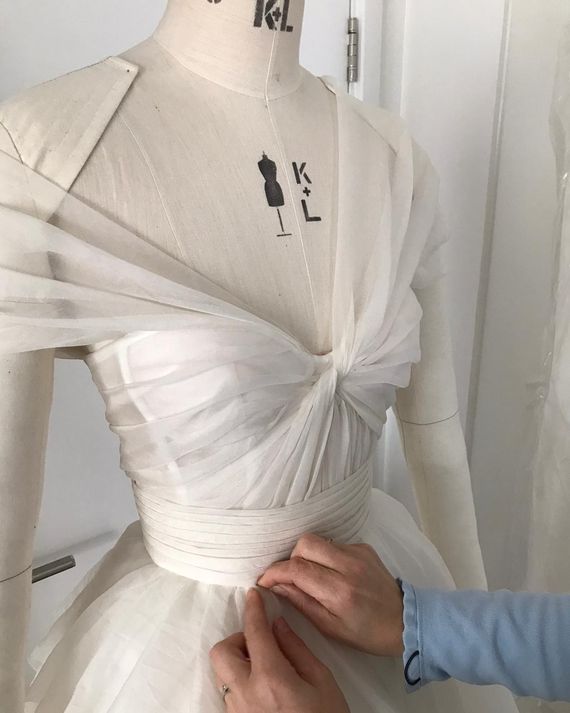 First, there's a pink and black dip-dyed dress with an asymmetrical off-the-shoulder drape and a tiered skirt in silk organza. It's the sort of look that a 1950s starlet like Grace Kelly would wear if she were a chill millennial creative going to a gala. Once the basic structure of the dress was completed by hand-knotting, pleating, and sewing the bodice onto the corset, it was all taken apart to be dip-dyed.
According to the brand, the dying process is "complicated," which is why the designers experimented in their gardens first. In order to maintain the pink hem, the dress had to be opened at the waist so the bodice and skirt could be dipped separately — with the support of a professional dying team — before reassembly.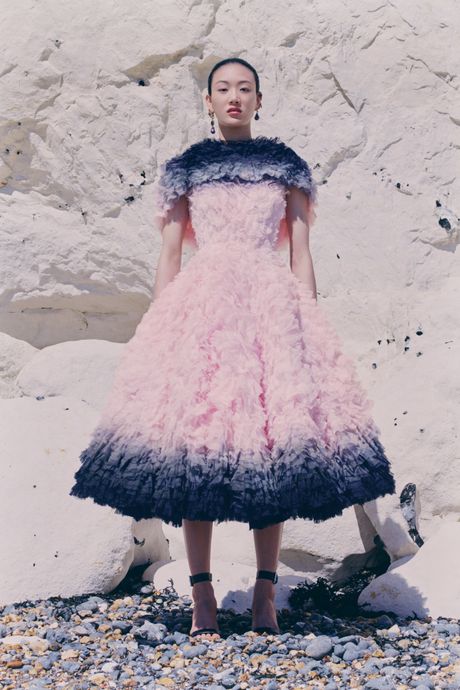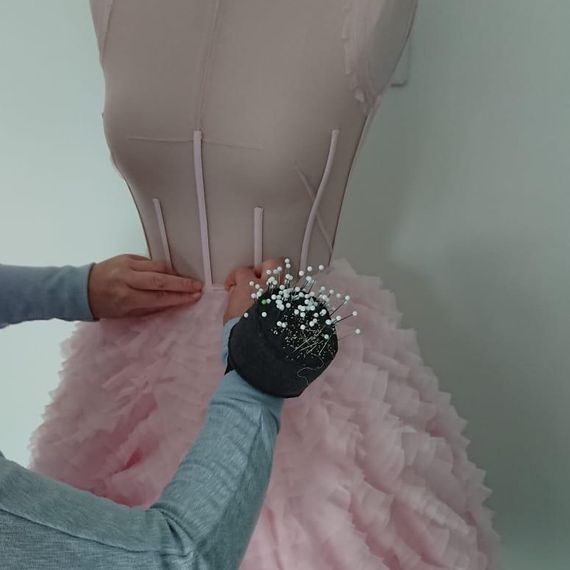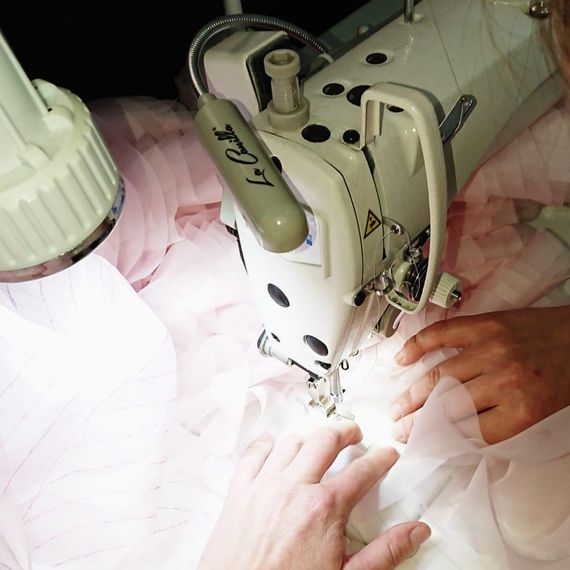 Another pink and black dip-dyed dress was made of recycled materials sourced from existing fabric stock. It has a high neck, scalloped back, and voluminous oyster ruffle skirt made with layers of organza. The brand says that creating the ruffles is labor-intensive since every circle of variously sized organza is cut by hand and then stitched in organic lines, row by row, until enough layers of the thin material can make a dense garment. Of course, it all had to be taken apart again in the dying process before it could be put back together and completed.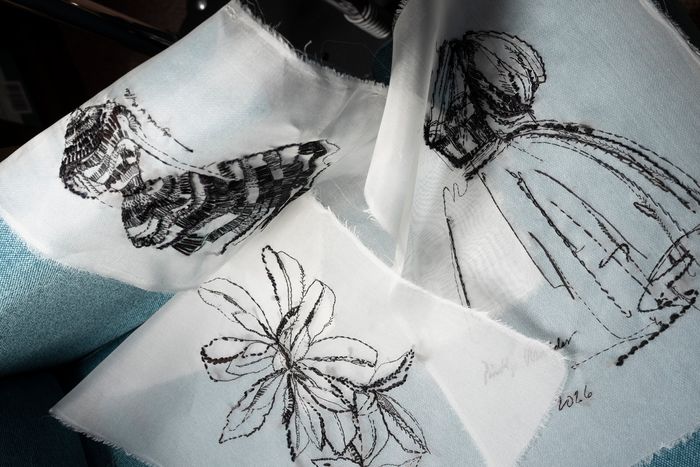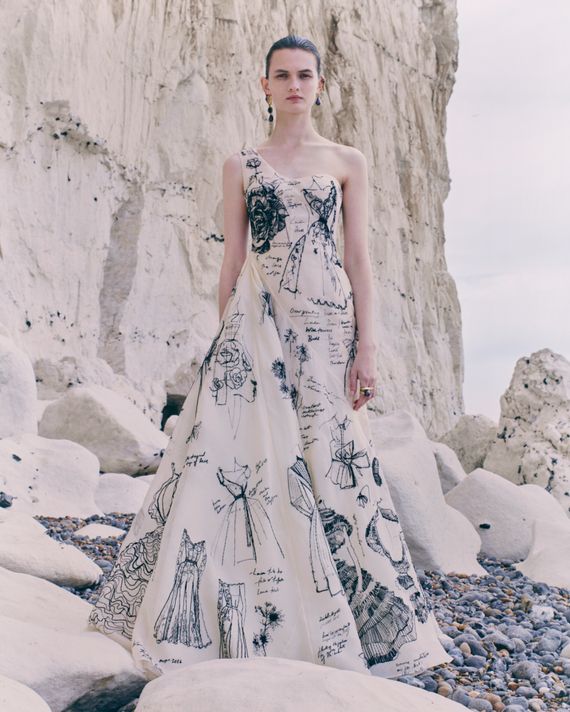 The last look here, an asymmetric floor-length gown, is a sentimental one for the Alexander McQueen design team. The embroidery covering it was actually inspired by all of their sketchbook drawings as a way to immortalize an unprecedented moment. "Sarah Burton and the team wanted the dress to feature all the sketches and designs that had been created during previous months as a memento of working from home, telling the story of community and teamwork prevailing through a challenging time," the brand explained in a statement.