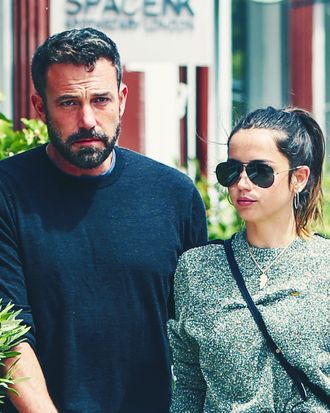 Ben Affleck and Ana de Armas.
Photo: BG004/Bauer-Griffin/GC Images
If an image of Ben Affleck, 48, and Ana de Armas, 32, occupies space in the palace of your mind, chances are it was originally captured by a paparazzo. Since the celebrities were first linked, in March of last year, they have seemingly gone out of their way to act in love before the insatiable paparazzi, frequently walking their dogs, engaging in extra-public PDA, and trudging about their Los Angeles neighborhood. Their entire ten-month relationship can be charted by these wildly staged photos — including, now, their rumored breakup.
Last night, hours after People reported that the couple could no longer make it work because they are at "different points in their lives," the Daily Mail published evidence that indisputably proves the reports: In a rich collection of photos, a man whose face is obscured by head accessories can be seen on Affleck's Los Angeles property hurling a cut-out of de Armas — the same simulacrum that paparazzi captured Affleck's children playing with over this summer — into the trash. While Ana de Armas Updates, the celebrity stan account known for its refreshingly lighthearted criticism of its muse, circulated a rumor that the faceless man was Affleck's embattled brother, additional photos appear to suggest that he is actually a landscaper of some kind.
While this is the most evocative proof of Affleck and de Armas's split, it's not the only evidence. The couple are, indeed, at different points in their lives: Affleck is a 48-year-old father of three who secured his first major acting role when de Armas was 4 years old, and de Armas could still be considered up-and-coming. Also, she debuted a new haircut last night — classic post-breakup behavior.
As it often goes, it appears they simply wanted different things. According to People's source, de Armas didn't want to be based in Los Angeles, where Affleck lives to be nearby his children. Another source told Page Six that de Armas apparently wants children of her own, and Affleck does not want any more, which was "a deal-breaker" for de Armas. Nevertheless, the split was "mutual" and "completely amicable" — and also, maybe short-lived?
"They could get back together," Page Six's source continued. "They are in love. People who know them believe it's temporary." Well, if that is in fact the case, we look forward to the paparazzi photos announcing their likely very-public reunion.