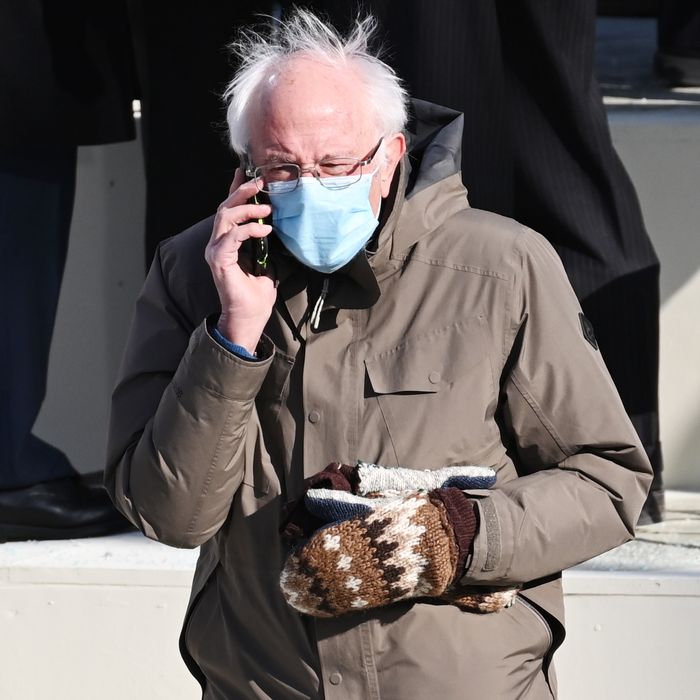 Photo: SAUL LOEB/POOL/AFP via Getty Images
Inauguration Day, sartorially speaking, is a time for deep symbolism. Recall Kellyanne Conway's toy-soldier-on-acid, extra-in-an-Austin-Powers-movie look for Trump's 2017 swearing in, now an ominous hint at the farcical, terrifying Trump "revolution" to come. And Melania Trump's powder-blue Jackie Kennedy cosplay on the same occasion, an attempt to transmit dignity and elegance (four years later she would leave the White House to the tune of "YMCA").
In 2021, on this Inauguration Day, Bernie Sanders made a stunning fashion statement of his own.
The senator from Vermont and presidential runner-up showed up to the proceedings looking like a man who was preparing to shovel the driveway, a man who was standing in line at the post office, a man who was about to get into his Subaru Forester and head to the grocery store. Amid the camel hair and elegant wool coats, he wore a characteristically utilitarian grey puffer, carried a huge manila envelope (filled with $2,000 checks??), and prominently displayed a pair of oversized patterned mittens.
Onlookers quickly discovered the story behind the mittens as they went viral: They were made by a teacher in Essex Junction, Vermont, who knows one of Sanders' children. They are made from repurposed wool sweaters with fleece from recycled plastic bottles. When the teacher, Jen Ellis, gave them to Sanders, she said, "I just put in a little note that was like, 'I believe in you, I've always believed in you, and I hope you run again.' " The mittens were spotted last year on the presidential campaign trail.
What does Bernie want to say with these mittens and his overall look? That he is cold. That he supports a Green New Deal. That he doesn't mind repeating an outfit. Mostly it is a reminder that we could have had, in these troubled times, a Ross Dress for Less president for the people.