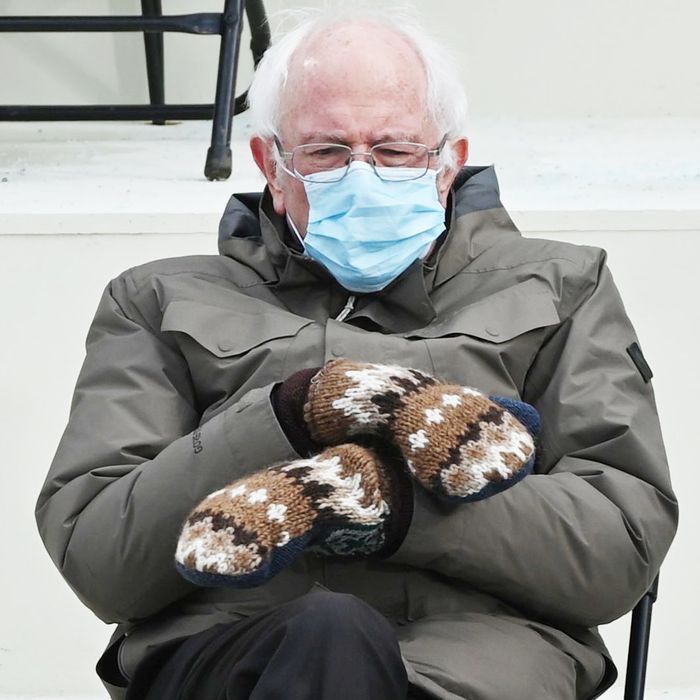 Bernie Sanders's patterned mittens that captivated the nation.
Photo: BRENDAN SMIALOWSKI/AFP via Getty Images
The patterned mittens Bernie Sanders wore to the inauguration: top-notch. Who wouldn't want their own pair of the hand-knit accessory — thoughtfully crafted from repurposed wool sweaters and recycled plastic bottles — to keep their paws toasty in the wintertime? As it turns out, swarms of people do, but they're not for sale, and if you've considered reaching out to the woman who made them, please do not.
On Wednesday night, Jewish Insider caught up with the mitten-maker — Jen Ellis, 42, who teaches second grade just outside Burlington, Vermont — to ask her how it felt to see her senator wear her creation. While this wasn't the first time Bernie has worn the mittens in public — he debuted them at a Women's March in January of last year — this certainly served as the mittens' most high-profile appearance.
Ellis responded exuberantly. "He must really like them if he chose to wear them," she said, adding that she has long admired Sanders's politics. In fact, she sent him the handmade mittens after he lost the Democratic presidential nomination in 2016, hoping they might bring a smile to his face or inspire him to run again. (At the time, her daughter was attending a preschool directed by Sanders's daughter-in-law, so Ellis had her daughter transport the mittens.)
But when asked to describe how she personally has fared in the past 24 hours, the enthusiasm drained from her voice. The virality was "unexpected," she told the outlet, before elaborating on the extent of the demand: By Wednesday evening, she had received a staggering 6,000 emails about the mittens. In fact, during the interview, Ellis was in the process of figuring out how to log back in to her Twitter account so she could announce that, unfortunately, "I don't have any mittens to sell." (She eventually got back into her account.)
Nor does she have any intention of starting up a mitten business. "There's no possible way I could make 6,000 pairs of mittens, and every time I go into my email, another several hundred people have emailed me," she told Jewish Insider. "I hate to disappoint people, but the mittens, they're one of a kind and they're unique and, sometimes in this world, you just can't get everything you want."
Instead, she has suggested that people visit Etsy, where they'll find a huge community of crafters selling handmade accessories that will keep their extremities just as warm. But as for Bernie's specific mittens? Kamala Harris's camel Pyer Moss coat and Michelle Obama's monochromatic pantsuit are more attainable.