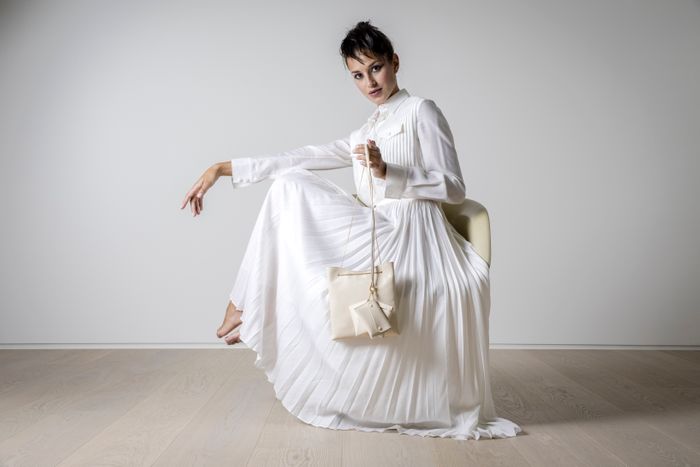 Photo: Courtesy of Il Bisonte
The new year is a time for fresh starts, for resolution-making and goal-setting. But this year, many of our resolutions will look a bit different — if we're even bothering to make them at all. So may we suggest an idea for this new year? In the spirit of fresh starts, and as a little gift to yourself for getting through the past year, we think now is the perfect time to treat yourself to a new purchase, especially one that's built to last and that'll be infinitely useful in the months ahead. Our suggestion: a bag is the only clothing item that you'll use almost every single day of the coming year, the accessory that'll define any of your outfits, the thing that'll hold all of your most important items — your keys, wallet, journal. January is the time to celebrate new beginnings, and treating yourself to a new bag, one that will be your go-to during the next 12 months, is a stylish way to mark this new chapter.
Italian brand Il Bisonte, known for their leather accessories, is also celebrating new beginnings — they recently marked their fiftieth anniversary and designed a wide range of new bags to commemorate the milestone. Their new capsule collection builds off of the brand's storied history while also looking to the future, by updating and reworking several of the iconic designs used in their historical collections. Il Bisonte also places an emphasis on responsible production and consumption by using an all-Tuscan supply chain and crafting pieces that are made to last — through 2021 and beyond. So, to help you pick out your new go-to accessory, we've put together a list of eight of our favorite bags from Il Bisonte's new collection, from everyday totes to smaller cross-body options. Read on to find your favorite.
Your perfect everyday tote, the SOLE is made with 100 percent vegetable-tanned cowhide leather and features sturdy canvas handles. The neutral color will match all of your outfits (or just look great around your home), and the bag's diagonal cut is a callback to a characteristic design used in historical Il Bisonte collections.
The GIGLIO's soft curves and minimalist aesthetic call back to designs that Il Bisonte first introduced in the '70s. Another great option for an everyday bag, its sliding chain strap also allows you to wear the accessory several ways — on the shoulder, or as a handbag.
With an elegant, slender gold chain, this shoulder bag will be perfect for formal events — when we can enjoy those again. But its smaller size is also great for anytime you need to pop out for a small errand and only need your wallet and phone. (Fun fact: the name of this bag, LUISA, is a reference to the Medici family — another famous name in Italian heritage.)
The TITANIA is inspired by beautiful origami structures, making this multi-pocket clutch a definite conversation-starter. Plus, we love the little details too, like the slender shoulder chain and snap-button closure.
If you're looking for a go-to, everyday bag that still looks impeccably stylish, the BAGGU is it. With a simple design in 100 percent calf leather, this cross-body features an adjustable strap and the characteristic Il Bisonte diagonal cut featured in previous collections.
The STUFA is your perfect option for quick errands. It's an elegant cross-body design — available in eye-catching colors and featuring that iconic diagonal cut – created with 100 percent vegetable-tanned cowhide leather. It offers an adjustable leather shoulder strap, too.
Like its sister bag, the TITANIA, the TITANO is also inspired by the aesthetics of origami. The neutral color is complemented by the bag's sleek, simple design, which includes an adjustable cross-body strap and a front flap with snap-button closure.
The ELBA bag, named after the Tuscan island, pays tribute to Il Bisonte's Italian heritage and calls to mind sunny summer days on the beach. Made with 100 percent calf leather, this design is perfect if you're looking for a sturdy tote with elegant details.
This advertising content was produced in collaboration between Vox Creative and our sponsor, without involvement from Vox Media editorial staff.