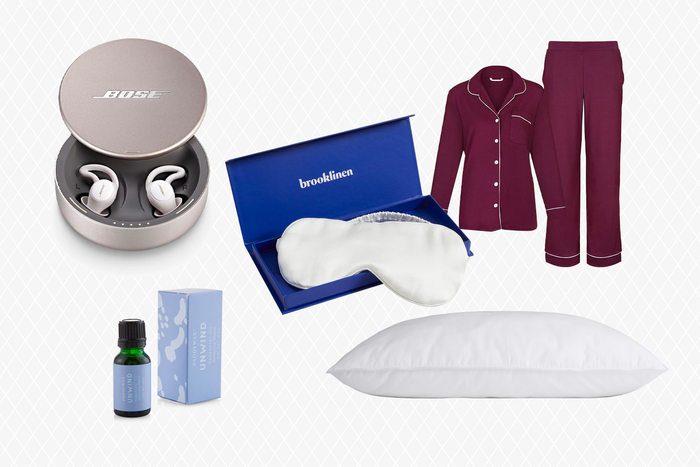 Photo-Illustration: Ashlie Juarbe
Why would anyone have had trouble sleeping in 2020? It's truly a mystery. But we think that, like us, many people are entering the new year determined to get better sleep — and lots more of it, please.
The barriers to a great night's sleep are many, especially for the city-dweller. The streetlights that illuminate your bedroom all night. The "quick" phone check that leaves you somehow still scrolling at 5 A.M. The upstairs neighbors who haven't laid down carpet…and whose house shoes are platform combat boots. The banging radiator. The dreaded snoring sleeping partner.
Luckily, there are lots of ways to optimize your sleep — like the 13 products ahead. From the game-changing Bose Sleepbuds II specially designed to help you relax and fall asleep faster, to the plushest weighted blanket, to a pre-bedtime sip that's like a glass of instant chill, these are the buys that'll help you sleep like a baby, wake up refreshed, and make 2021 filled with your best sleep ever.
A
great
pair
of
sleepbuds
On sleepless nights, you may have resorted to earbuds + random videos that promise to help you sleep — they either don't work, or you realize just how uncomfortable standard earbuds are for side-sleepers. Forget all that: Bose Sleepbuds II are a true game-changer. Specially designed to help you fall asleep faster, these tiny sleepbuds fit snugly and comfortably in your ear, no matter how you sleep. They work with the Bose Sleep App to deliver a library of soothing sounds to calm your racing mind, or choose noise-masking tracks to help block all kinds of distracting noises — yes, including snoring and random city sounds like sirens and your heavy-footed upstairs neighbors. This is an off-label use, but this writer also loves them for work-from-home days with her partner — you'll never hear a peep out of their Zoom meets.
A
calming
bedtime
sip
with
magnesium
Magnesium, a mineral found in foods like leafy greens, nuts, and whole grains, is beloved by many for its ability to help relax the muscles, calm you down, and help you sleep (Epsom salts, the ones that make your bath super-soothing, are just a form of magnesium you absorb through your skin). Magnesium powder, which you add to water to make a slightly fizzy, tart drink, is a great way to get your dose — but make sure you drink it close to bedtime. The effects kick in fast, and this stuff will make your eyelids heavy in no time.
A
CBD
oil-infused
bath
salt
soak
A hot bath is a time-honored way to destress and chill out before bedtime. A hot bath with a salt soak, even better. A hot bath with super-fancy, CBD oil-infused Epsom and Himalayan salts, delicate dried flower petals, and essential oils? Now you're talking.
A
slow-burning
luxury
candle
Okay, so you shouldn't actually burn a candle while you're sleeping. But lighting one in the hour or two before bedtime can be a great part of your wind-down routine. Lower light signals to your body it's time to relax and rest, while the surprisingly realistic cedar scent will transport you to a snowy cabin, if only in your mind. The best part is, Boy Smells candles actually scent the room even when they're not lit, so you can safely ride those cabin vibes straight to dreamland.
A silk sleep mask seems almost too foofy and fancy — like a cute accessory Elle Woods would wear with marabou slippers, not something that's actually useful, right? So wrong. Sleep masks are a game-changer from the moment you first put 'em on. You'll fall asleep faster, sleep deeper, wake up less during the night, and wake up feeling more refreshed. Lesson learned: never doubt the Elles of the world.
A
soothing
essential
oil
diffuser
The sleep benefits of the oil diffuser are many: They gently scent your room like a candle, but are safe to have on at night. They emit a soft hum that's oddly comforting. And best of all, they add moisture to the air while you sleep — critical in the winter, and doubly so if have radiator heat, which can leave you feeling all parched and scratchy-voiced in the morning.
An
essential
oil
blend
made
for
relaxing
Add a few drops of this made-in-Nashville essential oil blend to your diffuser and let its soothing blend of woodsy scents, calming sage and lavender, and subtly-sweet geranium oil lull you right to sleep.
Down is comfy, but pricey, and not exactly animal or allergy-friendly. The better option? Parachute's Down Alternative Pillow, which is filled with microfiber that feels just as lofty and lush as a fine down pillow, and is available in three different densities (in case you're one of those weirdos who doesn't like extra-firm).
A
comfortable,
stylish
pajama
set
Are coordinating PJs an absolute, better-sleep must? Not necessarily. But we think there's value in making your sleep time special — and changing into this ultra-soft, classic piped pajama set will definitely send the message that it's time to unwind.
Blue
light-blocking
glasses
Your laptop, your phone, your TV — pretty much any glowing screen emits blue light which hollers at your brain "time to wake up!" Which is why a quick 3 A.M. phone scroll tends to turn into a 5 A.M. Wikipedia hole. The solution: blue light-blocking glasses. There are many no-name options, but you can also add a blue light-blocking coating to the lenses of any of Warby Parker's reliably stylish glasses, so that "quick" phone check doesn't keep you up all night.
Stylish
room-darkening
curtains
If you live in a crowded city, chances are your room doesn't get nearly as dark as it should for proper sleep. The lights from your neighbors' apartments, streetlights, the floodlight on the parking lot next door — all of that makes it hard for your body to get the "it's time to sleep now" message. Blackout curtains block out the world and can really improve your sleep quality and quantity. Sadly, you're on your own with your partner's laptop glow.
Weighted blankets are the trendy sleep accessory of the moment — fans report they feel like a gentle hug that almost instantly soothes you to sleep. Bearaby makes some of the prettiest and highest-quality ones out there — even better, this velvet napping blanket is made from upcycled marine plastic, keeping 900 plastic bottles out of the ocean.
Waking up well is a part of sleeping well. So instead of waking up to the soul-shattering digital blare of your phone's alarm, why not choose this cool-looking sunrise clock instead? It looks like a slab of marble atop a pink-salt base, and it simulates the gradual brightening of a real sunrise. It's the next best thing to being woken up by someone serving fresh coffee.
This advertising content was produced in collaboration between Vox Creative and our sponsor, without involvement from Vox Media editorial staff.