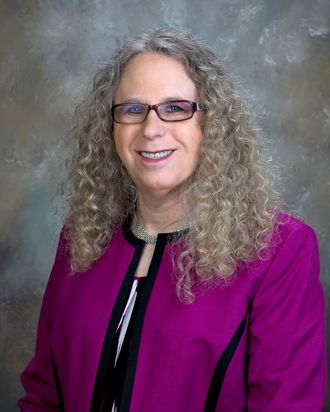 Dr. Rachel Levine.
Photo: Biden-Harris Transition Team
Rachel Levine, who currently serves as Pennsylvania's secretary of health, could become the first openly transgender federal official to be approved by the U.S. Senate. On Tuesday afternoon, President-elect Joe Biden announced that he will nominate Levine to be assistant secretary for health at the U.S. Department of Health and Human Services, calling her a "historic and deeply qualified choice to help lead our administration's health efforts," the Washington Post reports.
In his announcement, Biden — who has repeatedly vowed to prioritize diversity in his appointments — characterized Levine as a tireless leader who will meet the public-health needs of all Americans, "no matter their zip code, race, religion, sexual orientation, gender identity, or disability." As assistant secretary, Levine would serve under Xavier Becerra, Biden's nominee for secretary of the U.S. Department of Health and Human Services, who would be the first Latino to run that department.
Levine, a graduate of Harvard College and the Tulane University School of Medicine, served as a pediatrician at Mount Sinai Medical Center in New York and as Pennsylvania's physician general before Governor Tom Wolf appointed her as acting health secretary in 2017. As Pennsylvania's top health official, Levine has garnered praise for her leadership amid the state's opioid epidemic, and, more recently, amid the coronavirus pandemic. She has also faced relentless transphobic attacks, especially in the past year. Last June, a township commissioner complained that he was "tired of listening to a guy dressed up like a woman." The attacks got to be so incessant that, last summer, Governor Wolf condemned them in a statement, calling Levine "a highly skilled, valued, and capable member of my administration."
In the face of such hateful rhetoric, Levine remained focused on Pennsylvania's pandemic response. "Republicans still deny her basic equality," Brian Sims, a state representative and LGBTQ activist, told the Post, "and she focuses on saving their lives." In July, she released her own response to the barrage, writing, "While these individuals may think that they are only expressing their displeasure with me, they are, in fact hurting the thousands of LGBTQ Pennsylvanians who suffer directly from these current demonstrations of harassment."
While Levine has not yet spoken publicly since Biden announced his intent to nominate her, LGBTQ organizations have met the news with widespread, overwhelming enthusiasm. "HHS rolled back health-care protections for transgender Americans and regularly engaged in policy attacks on other marginalized communities" under the Trump administration, Sarah Kate Ellis, president and CEO of GLAAD, told the Hill. "With Dr. Rachel Levine's nomination, HHS is now set to be home to the first transgender Senate-confirmed federal official, a truly historic and deserved piece of visibility for transgender Americans."
"She's just so highly qualified, regardless of her gender identity," Raffi Freedman-Gurspan, the Obama administration's first openly transgender appointee, told the Post. "I think it sends a message to the trans community about how valued we are. We have a seat at the table. There's no doubt about that."