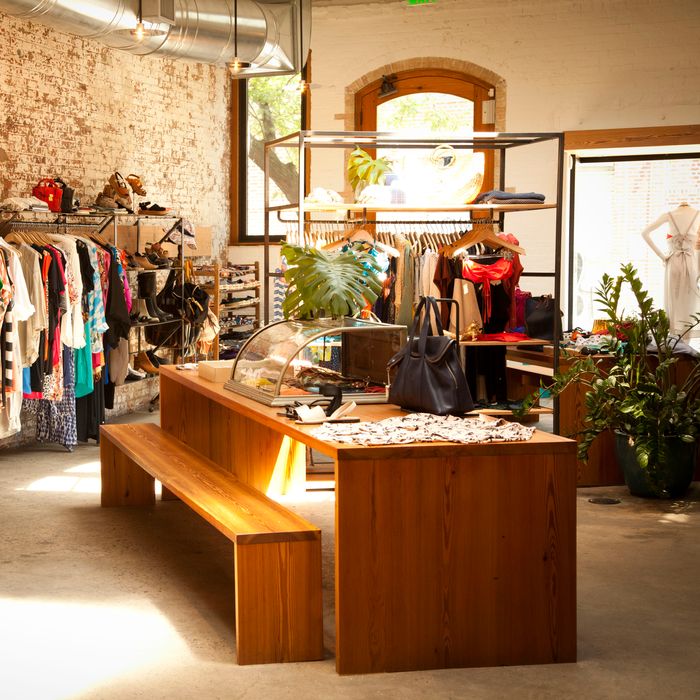 Photo: Deirdre Schoo/The New York Times/Redux
Friday marked another sad day for independent New York retail — and anyone with a foyer full of status clogs. Bird, the multi-brand retailer that defined the "bougie-boho" look of Brooklyn in the 2000s, announced that it was closing after 21 years in business.
"As with so many of our friends and neighbors, the ongoing pandemic has proven too much to bear on top of an already challenged, rapidly changing industry, and world," owner Jen Mankins wrote in a statement on Friday, shared to Instagram. Local designers like Mara Hoffman, Ulla Johnson, and Jessie Loeffler Randall all chimed in to express their condolences, as well as Brooklynites like Aaron Dessner of the National (and now folklore and evermore fame).
Thanks to the rise of online shopping and new channels of influence, taste-defining retailers like Opening Ceremony and Barneys were closing at a rapid clip even before the pandemic. Since the coronavirus hit, Totokaelo, Jeffrey, and others have suffered a similar fate. But the loss of Bird is a blow specifically for Brooklyn's high-waisted-flare-jeans-wearing creative class. In the beginning, it was one of the few places — if not the only place — in the borough where you could find small, independent designers like Rachel Comey, international brands like A.P.C. and Isabel Marant, and more high-fashion names like Dries Van Noten.
Its signature items became the unofficial status symbols for the neighborhoods it occupied. It was Cobble Hill's number-one supplier of No. 6 clogs, for example. It was the only place I could snag a Mansur Gavriel bag in 2014. And, until recently, it was where I would go to try on Jesse Kamm pants. (Unfortunately, the key phrase here being "try on.") Despite Bird's price point, it felt less pretentious and more personal than its peers. It was truly a neighborhood institution, staffed by friendly locals that sold clothes for living in.
Bird first opened in Park Slope in 1999. Mankins, a Texas native who'd worked as a buyer at Barneys and Steven Alan, purchased it from its founders in 2004 for $160,000* after answering a classified advertisement in Women's Wear Daily. She then expanded to Cobble Hill in 2006 and Williamsburg in 2009, just as both neighborhoods exploded with Manhattan migrants in the market for Comme des Garçons wallets. A Brooklyn resident herself, Mankins had a keen understanding of the new local customer. Not only did they not want to commute to Manhattan to shop, they also didn't necessarily want to dress like Manhattanites.
In 2014, Amy Larocca wrote that Bird stocked the kind of fashion that "makes it possible to go up and down subway steps and even ride your bike to work while still looking good" — to be chic while still doing the kinds of practical, down-to-earth things that a certain kind of Brooklyn resident prides themselves on.
"I wanted the clothes to be in service to the women and the lives that they lead," Mankins explained. Pieces were easy in the "sack dress" kind of way and practical for those who could afford a lifestyle of $390 clog boots, but they were never Eileen Fisher–type boring. Oftentimes, they were designed by women — Maria Cornejo, Ulla Johnson, and, of course, Rachel Comey, to name a few — a handful of whom also lived in Brooklyn.
"We knew who our customer was — like, we actually met them and had specific people in mind," said Maddie Bailis, a former buyer, of what made Bird's selection unique. "We were real about things. We rarely bought head-to-toe looks. When we would see shoes at appointments, we'd be like, 'You can't walk in those shoes in New York.'"
In 2017, Mankins decided to expand beyond the neighborhood and take Bird to Los Angeles. Looking back, that was the year when things started to go south, she says. The West Coast investment wasn't paying off, Trump was president, Instagram and e-commerce were erasing the role of the tasteful middleman and devaluing the personal, and customers wanted everything fast and cheap. "It feels like what I've done and what I've been successful at — what I care about, and what people seem to love Bird for — is sadly, almost obsolete," Mankins said.
Fashion, of course, changed too. The siren song of unflattering pants waned, and a wardrobe of colorful boiler suits and loose printed dresses seemed less radical — and, as a result, perhaps less worth shelling out for. Many customers, especially younger ones, didn't necessarily want to spend $400 to $500 — or even $250 — on something that didn't feel superspecial (which, in 2020, meant something very different than it did in the 2010s and in the 2000s). Bird kept up with trends and emerging designers in its own way and lowered its price range to meet changing consumer behaviors, but ultimately, its problems were far bigger than its selection.
When the pandemic first hit, it seemed like it might be an opportunity for Mankins to rightsize the business, she said. She closed the original Park Slope store (it's now a COVID testing site) and made some painful staff cuts. But once retail opened up again over the summer, it became clear that people still weren't shopping in stores. Carrying on meant investing in a whole new season and "starting the whole broken process all over again," Mankins said. Likely, spring/summer 2021 would sit on the shelves, and she would be forced to mark it down. "After the holidays, I had to reckon with the fact that it wasn't sustainable, and it hasn't been sustainable for a while," she concluded. "I think the best thing to do is get out gracefully sooner rather than later."
The closing of one chapter, though, offers the opportunity to start another. Mankins says that she's going to use this break to spend time with her family and see how things shake out. "I think we're on the cusp of coming back around full circle, where everything's personal again," she said. "People don't want infinite access to everything. But I don't think that we're there yet, and I didn't know how I would go from where I am now to that point."
In the meantime, customers can enjoy an additional 15 percent off all purchases as a parting gift. "For obvious reasons," Mankins wrote, all sales will be final.
*The original version of this article incorrectly stated that the store was sold for $80,000.