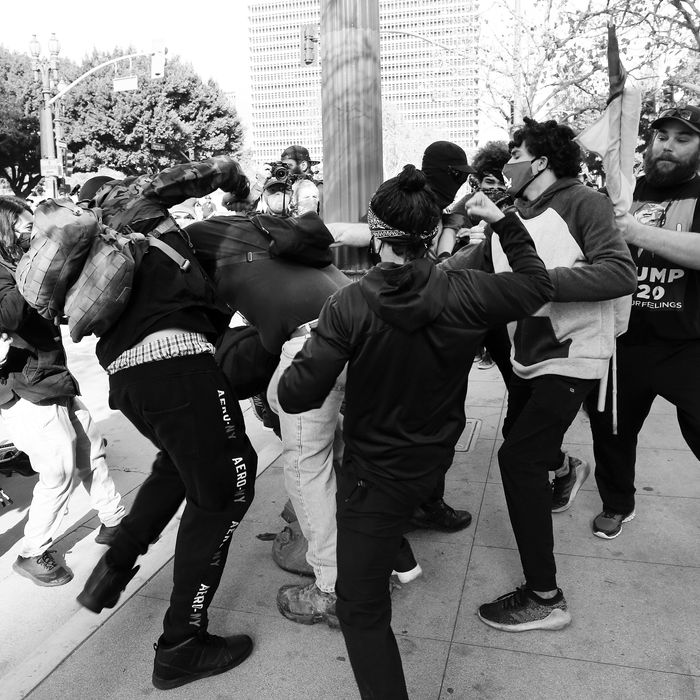 A "Stop the Steal" rally in Los Angeles on January 6.
Photo: Al Seib/Los Angeles Times via Getty Images
After encountering a raucous "Stop the Steal" rally in downtown Los Angeles on Wednesday, a Black woman was assaulted by dozens of combative Trump supporters who beat her and ripped off her wig — a violent encounter that caused her to fear for her life. While no one has been arrested in connection with the attack, according to the Washington Post, the Los Angeles Police Department is currently investigating it as a hate crime.
The assault occurred on the afternoon of January 6, when Berlinda Nibo, 25, came upon dozens of the president's supporters, who were brandishing Trump flags and chanting "Stop the steal" around City Hall — a local version of the Washington, D.C., riot that descended into chaos. Stunned by the scene, Nibo began to livestream the event, prompting the demonstrators, most of whom were maskless, to ask her if she voted for Trump. Then they began "calling me the N-word, calling me the B-word," she told KCAL, to which she responded with the middle finger and started to walk away to return home. But they followed her.
"That's what started all of them to jump in and shoving me around," Nibo told the Root, estimating that she was cornered by 30 to 40 Trump supporters. In photos of the attack captured by freelance photographer Raquel Natalicchio, Nibo can be seen attempting to defend herself as the mob thrashed her, tore off her wig, and pepper-sprayed her. Then a man wearing a Trump 2020 hat stepped in, embracing Nibo from behind in a protective manner.
In an interview with KTTV, Nibo said, "The entire time, he kept whispering in my ear, 'Don't move, they're trying to kill you, they're trying to kill you.' " Had the man not put his body between her and the rest of the crowd, Nibo told KCAL, "these people would have literally tried to kill me." Later, she told BuzzFeed News that he had grabbed her so tightly that her chest was red from the pressure. "It was hard enough for a person of my color to have red marks on my body — that's how tight he was really holding me," she said. "It was traumatizing."
While six people were arrested during the pro-Trump demonstration, which was met by counter-protesters, KCAL reports that no one was arrested on suspicion of assault, even though Natalicchio says police were across the street at the time of the attack. ("How could they not see it?" she asked a local Fox affiliate, adding that the cops did nothing to intervene.) But then Natalicchio's photos when viral, prompting outrage, and authorities have since confirmed to the Washington Post that the incident is being investigated as a hate crime.
"I think it's disgusting we're witnessing the very real racism that still lives in our country today," Natalicchio told KCAL. "People of color experience things like this on a daily basis and are seldom believed when they speak about it."
While Nibo says she made it away with just a few minor scratches, including one on her face, she says the incident has taken a deep psychological toll on her and left her feeling unsafe as a Black woman in America. "I'm still so shocked," she told the Fox affiliate. "I'm still shaking."
This post has been updated with additional information.