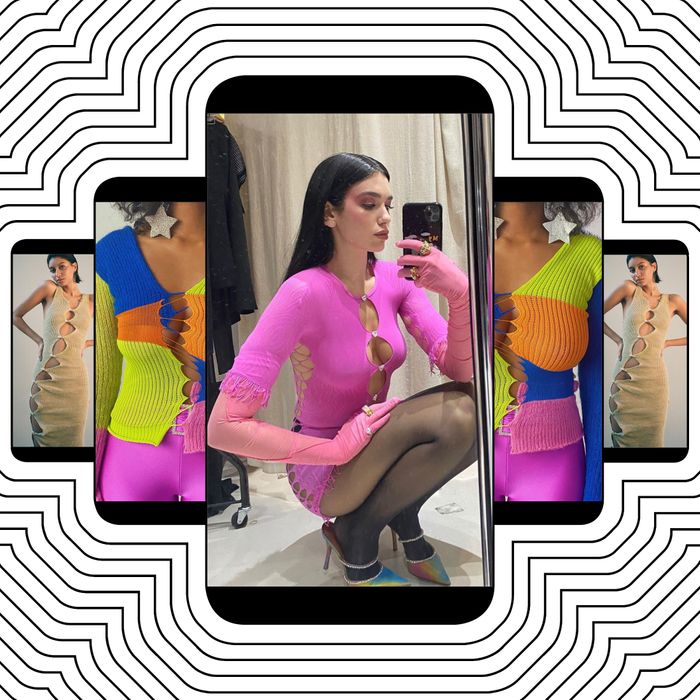 Photo-Illustration: by The Cut; Photos: @dualipa, Tyler McGillivary, Maimoun
Now more than ever, people are experiencing fashion through their phones. In "Screen Time," fashion writer Emilia Petrarca shares all the screenshots, double taps, and swipes she made this week.
Hello, and welcome back … to my phone! I haven't put it down since my last column on December 18, which was a decade ago now. (I didn't even take a break when Slack crashed on the first day back at work. Remember that?) So much has happened in the last few weeks, including an insurrection and not not including influencers fighting over the baby name "Baby." But one thing that has conspicuously not been reported on is the contents of my camera roll, which includes evidence of a new fashion trend, evidence that Sarah Jessica Parker has been sending secret messages through the SATC opening credits since 1998, and evidence that I need to go outside, immediately.
This week, when I wasn't scrolling and screaming "Did you see this??" across the room to my housemate, I was reading the collective works of Fran Lebowitz and thinking about how nice it would be to have Martin Scorsese laugh at every single one of my jokes, as he does in Pretend It's a City on Netflix. But even a book couldn't stop me from picking up my phone. One night, while reading Metropolitan Life, I was compelled to share a photo of a passage on my Instagram Stories because I thought it was funny, and that's when I realized I'd gone too far.
Below, my week in screen time.
A Trend I've Noticed in My Feed
When I think about getting the COVID vaccine, I imagine myself tearing off my clothes like the Hulk. Of course, in reality, I'll just be pulling up my sleeve, but even that seems like a liberating first step — a metaphor for no longer needing fabric as protection, for the freedom to present my body to the world without fear.
This fantasy of ripping off our clothes in 2021 seems to be on the minds of fashion designers as well. After Dua Lipa shared a photograph of herself wearing a tight, pink-purple top with the buttons practically popping off earlier this month, I thought, Wait, I've seen this before. So many clothes on my feed seem to be hanging on by a thread. They look like sourdough being pulled apart, or an Agnes B. snap cardigan that's been shrunk ten times in the wash. That might not sound sexy, but it is! Sexual energy is exploding out of these clothes, and emerging designers like Nensi Dojaka, Martine Rose, Rui Zhou, and others are playing with the tension of needing to be dressed, but wanting to liberate their bodies. To me, it seems like the stage has been set for the return of bodycon in 2021, but in a sort of post-apocalyptic, post–Hervé Leger, scrappier kind of way. Evidence below.
A Conspiracy Theory
If you follow Sarah Jessica Parker on Instagram, you know that she is in complete and utter awe of the sun. She often stares directly at it, even during an eclipse, and shares blurry photos of its glare on her personal account, along with videos that she narrates in a chaotic whisper. (I highly recommend watching her eclipse reaction video from 2017.) I used to think that this was just SJP's kink, but after she shared the promo for the new Sex and the City reboot this week, I realized that her solar intrigue runs deeper than Instagram. Much, much deeper. In the first few seconds of the new promo, we're presented with a shot of the sun peeking through the New York City skyline — a shot that, upon closer inspection, mimics the original SATC opening credits from 1998, which also feature direct shots of the sun. Is it possible that SJP had a hand in directing? Has she been trying to send us a subliminal message all these years?? I'm going to stare into the sun and think harder about it.
Related: A Tweet That Made Me Laugh
How much do you want to bet that the SATC reboot involves Carrie, Miranda, and Charlotte starting their own TikTok Hype House??
An Important Moment in Turtleneck History
When a celebrity goes to court, the proceedings often become a runway — think about, for example, the time Naomi Campbell wore Alaia to testify in a war-crimes trial. On Wednesday, Mary-Kate Olsen made something as depressing as getting divorced over Zoom look chic. We could only see her from the waist up, but she wore a black turtleneck (presumably by the Row), and everyone else on the call also seemed dressed for the occasion.
Mary-Kate is doing her thing. She may not look like Nicole Kidman after her divorce from Tom Cruise, but I'd argue it's a similar vibe, just Olsen-ified.
Something I'd Like to Buy
There was a period of time right before the pandemic when I would wear pearl necklaces over my turtlenecks all the time. I was inspired by Marc Jacobs and Harry Styles, who gave the traditional jewelry some fresh, flirty charm. Of course, once I started working from home, I stopped wear pearls (and jewelry altogether). But this Anne Boleyn–inspired necklace from Turkish-British designer Dilara Findikoglu makes me want to get back on the horse. It also reminds me of those Phoebe Philo Celine letter necklaces, which I've always regretted not buying.
The Best Use of Black Culottes I've Ever Seen
Be sure to watch this video the whole way through.
A Reason to Go Outside
I feel like this impromptu photo shoot in the woods with '90s supermodels Carolyn Murphy, Amber Valletta, and Shalom Harlow should get an ASME award or something. The art direction! The styling! The energy! Never have I been more inspired to leave the house.