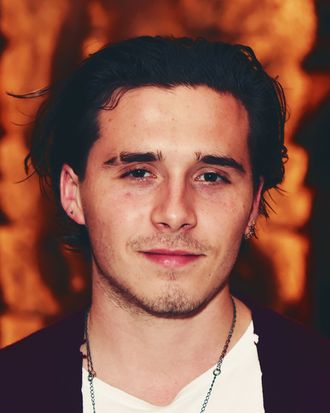 Photo: David M. Benett/Dave Benett/Getty Images for V&A
Sometimes you come across an image that is so rich and complex that it takes several viewings before you feel you've truly begun to take it all in. Hieronymus Bosch's "The Garden of Earthly Delights," for example, or "The Wedding at Cana" by Paolo Veronese. Or, the picture Brooklyn Beckham posted this weekend of his new back tattoo.
The tattoo is a tribute to Beckham's fiancée, actress Nicola Peltz. It's his fifth tattoo tribute to her, actually. As the Daily Mail laid out, his other devotional pieces include Peltz's name on his neck, her beloved late grandmother's name on his arm, and a tattoo on his forearm that reads, "My life, my love, my truth, my breath, my reason, my beauty, my precious."
This latest tattoo is even more text heavy than that last one. It's a copy (presumably) of a love letter Peltz wrote to Beckham. Under what appears to be a photo-realistic tattooing of Peltz's eyes and some geographic coordinates, the letter reads:
My forever boy. Read this anytime you feel anxious. I want you to know how deeply loved you are. You have the kindest heart I've ever met and hope I never go a day without your love. I think you are so incredible. Just know we can get through it all together if you breathe slow and trust. I love you beyond.

Love always,

Your future wifey.
(It's sweet, though you have to admit, it is kind of funny that it says, "Read this anytime you feel anxious," and then it's on his back — a very difficult place on which to read anything, in my experience.)
The tattoo is just one part of what makes the image so textured and intricate, though. Just above it is Beckham's hair, coiffed, it seems, to better highlight the tattooed correspondence. With the top parts of hair slicked skyward and the bottom smeared horizontally across his nape like emo neck bangs, the resulting effect looks like someone took Pete Wentz's hair from 2008, plopped it on Beckham's head, and then spun it around backward. Incredible.
In any case, congratulations to the happy couple, and may we all find peace in reading this on Brooklyn Beckham's neck whenever we feel anxious.