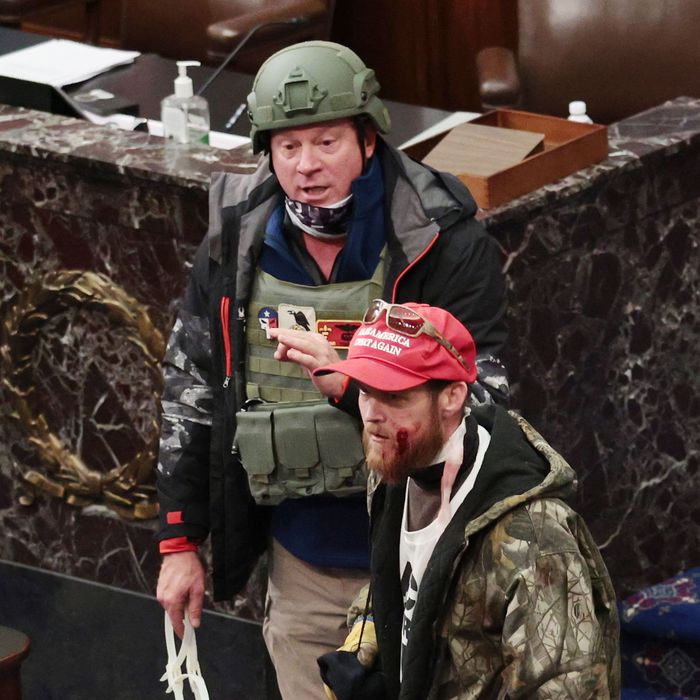 Larry Rendall Brock was identified by multiple people based on news footage.
Photo: Win McNamee/Getty Images
One thing about face masks is that, in addition to mitigating the spread of the coronavirus, they make it harder to identify a person. People cannot immediately discern who you are when half of your face is swaddled in fabric, a fact which the Trump-supporting hordes who swarmed the U.S. Capitol last week seemed broadly unaware of. Many did not wear masks as they absconded with podiums or charged the Senate floor with zip ties in hand; many have since been identified to authorities by the internet's armchair detectives — or in the case of one veteran pilot, by an ex-wife.
Per the New York Post, an arrest affidavit for Larry Randall Brock — a retired Air Force lieutenant colonel whose image was widely circulated after he participated in the January 6 siege of Congress — states that Brock's ex-wife contacted the FBI's National Threat Operations Center on January 8. She reportedly said that she recognized his military gear, and added, "I just know that when I saw this was happening I was afraid he would be there. I think you already know he was there. It is such a good picture of him and I recognize his patch."
The woman, who was married to Brock for 18 years but isn't identified in the affidavit, wasn't the only one to identify him from footage of the raid. As the affidavit points out, Brock was featured prominently exiting House Speaker Nancy Pelosi's office in an ITV news video. Other images showed him carrying zip ties. A researcher who saw the video told The New Yorker's Ronan Farrow that he was able to identify Brock from "contextual clues from his military paraphernalia" and facial-recognition software; two of Brock's family members and one former friend also recognized him from the news coverage. Also on January 8, a second tipster apparently contacted the FBI to say that they'd spotted Brock, thanks to the pilot wings he wore. "He was an A-10 pilot. Worked at L3, and he still has contacts that work with L3 that knew he was flying to Washington DC," the witness noted.
On Sunday, the Justice Department arrested Brock in Texas and charged him with one count of knowingly entering or remaining in any restricted building or grounds without lawful authority and one count of violent entry and disorderly conduct on Capitol grounds. The same day, it also arrested and charged Eric Gavelek Munchel, who was also seen in news footage brandishing zip ties, which many pointed out could have been used to detain people. Meanwhile, the FBI has reportedly received tens of thousands of tips, and is continuing to solicit information from the public on the "suspected use of explosive devices, or violent, destructive acts associated with the recent unrest," as well as "individuals who may have incited or promoted violence of any kind."