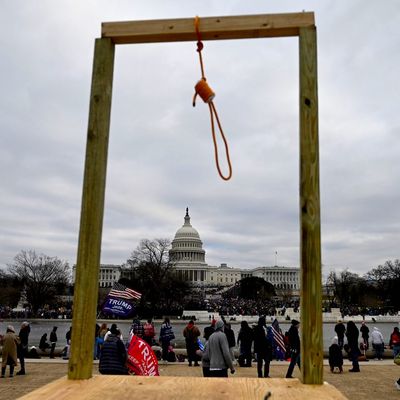 Photo: ANDREW CABALLERO-REYNOLDS/AFP via Getty Images
Days after swarms of insurrectionists attempted to lay siege to the U.S. Capitol, new and alarming details continue to emerge. On Wednesday, images and accounts shared by people in Washington, D.C., evoked a scene of utter chaos, as mobs of Trump supporters — encouraged earlier that day by the president himself — stormed Congress. On social media, footage of the crowd forcing their way inside the Senate chamber and looting the building circulated widely. So far, five people have died in connection with the attack, including Capitol Police officer Brian Sicknick, whom rioters reportedly bludgeoned with a fire extinguisher.
The New York Times reports that the FBI has received over 40,000 tips about the incident. The Justice Department has charged 13 people, while dozens more face charges in D.C. Superior Court. And still, as MSNBC's Chris Hayes has pointed out, federal authorities have yet to give a briefing on the riot, leaving the public to piece together a narrative from "firsthand accounts and some incredible reporting."
Still, as CNN's Brian Stelter noted, "It's becoming clear that as heinous as the attack looked in real time, on live TV and in our social feeds, it was even worse than we knew then. It was even more violent. It was even more treacherous."
Reports from inside the Capitol paint a grim picture.
Congresswoman Pramila Jayapal told the Cut that, in the 48 hours ahead of the pro-Trump rally that turned into an attempted coup, "everyone understood what the threats were." But that day, as lawmakers sat inside the Capitol, it became clear that security was not adequately prepared. "We started getting alerts on our phone that security had been breached," Jayapal recalled. "And we began hearing the noises, perhaps even before people on the floor could hear them. We could hear the insurrectionists coming in."
"The lack of security at the Capitol is not an accident. It is very clear to me that there were breaches of our law-enforcement agencies. The fact that there were no barriers, that they were essentially allowed in," she added. "I saw them put a Confederate flag on the Capitol. I think for people of color, the rising of the Confederacy in such vivid detail … there was an added sense of what this meant for the country beyond what was happening on that day."
Jayapal confirmed that some of the rioters arrived carrying zip ties, apparently prepared to make good on threats to kidnap legislators.
As chaos broke out at the Capitol, lawmakers and reporters alike found themselves directly in harm's way. For members of the press, whom the president has spent the past four years maligning, an armed mob of his disciples felt particularly terrifying.
NBC's Haley Talbot recalled how, when an announcement was made about tear gas in the rotunda, "the panic was really palpable. Everyone was shuffling, yelling, no one knew what to do or where to go." Talbot said she discovered in that moment that "there wasn't a gas mask under my seat in the gallery. I remember scanning the seats around me but couldn't locate the large black sack I'd seen other members furiously grab and rip open. I yelled to a nearby Capitol Police officer. Nothing happened."
Kristin Wilson, a senior Capitol Hill producer for CNN, gave the following account:
You're in complete contrast with yourself. You feel paralyzed but are moving. You're frantically trying to report out what's happening but you're desperately trying to find out where your colleagues are, if everyone is safe. It's dead silent and deafeningly loud, hiding behind a door that they are trying to break down. Not sure what you will do if they make it through — fight or surrender.




One other thing that I think speaks for all of us on the Hill team. We go to work every day assuming we are in the second safest place in America, after the White House. That myth was shattered.
Erin Schaff, a staff photographer for the New York Times, recalled how "two or three" men surrounded her as she fled the mob. After they saw her press badge, she said: "They threw me to the floor, trying to take my cameras. I started screaming for help as loudly as I could. No one came. People just watched. At this point, I thought I could be killed and no one would stop them. They ripped one of my cameras away from me, broke a lens on the other and ran away."
Some rioters called for Mike Pence's execution.
The insurrectionists also constructed a gallows, complete with a noose, outside the Capitol — a detail that becomes all the more chilling in light of reports from witnesses who heard rioters calling for executions. Jim Bourg — Reuters News pictures editor in charge of Washington — says he "heard at least three different rioters at the Capitol say that they hoped to find Vice-President Mike Pence," and to hang "him from a Capitol Hill tree as a traitor."
Audio from the incident has since confirmed that some in the mob were chanting "hang Mike Pence." According to BuzzFeed, one user on Parler, a now largely banned "free speech" social-media platform frequented by far-right extremists and conspiracy theorists, wondered ahead of the riot: "Who would you like to see 'dispatched' first? (1) Nancy Pelosi (2) John Roberts (3) Pence (4) other (please name) I was leaning towards Nancy, but it might have to be Pence."
Footage shows insurrectionists trying to force entry into the Senate chamber.
On Friday, Chris Hayes ran two disturbing video clips during his All In segment, one showing a rioter being shot as the mob tries to force its way into the Capitol, and another showing a police officer screaming in pain after being trapped by the crowd.
"Much of what we saw — silly costumes, people taking selfies and grabbing the Speaker's lectern — looked kind of like a group that might even attend a Trump boat parade," Hayes said. "But there was something way, way darker, more violent, more sinister, and more organized happening in that Capitol on Wednesday, and it's time we see it clearly."
It's possible that the riots may have exposed lawmakers to the coronavirus.
On Sunday afternoon, the Washington Post reported that lawmakers sheltering from the insurrectionists may have been exposed to the coronavirus in the process. "On Wednesday, January 6, many members of the House community were in protective isolation in a room located in a large committee-hearing space," Brian Monahan, the attending physician to Congress, reportedly informed legislators in an email. "The time in this room was several hours for some and briefer for others. During this time, individuals may have been exposed to another occupant with coronavirus infection."
Photos and footage from the attack indicate that many participants forewent face masks, as did a number of the Republican members of Congress sheltering from the rioters. As Representative Jayapal told the Cut: "I'm quarantining now because I am convinced that where we ended up, in the secured room — where there were over 100 people and many were Republicans not wearing masks — was a superspreader event."