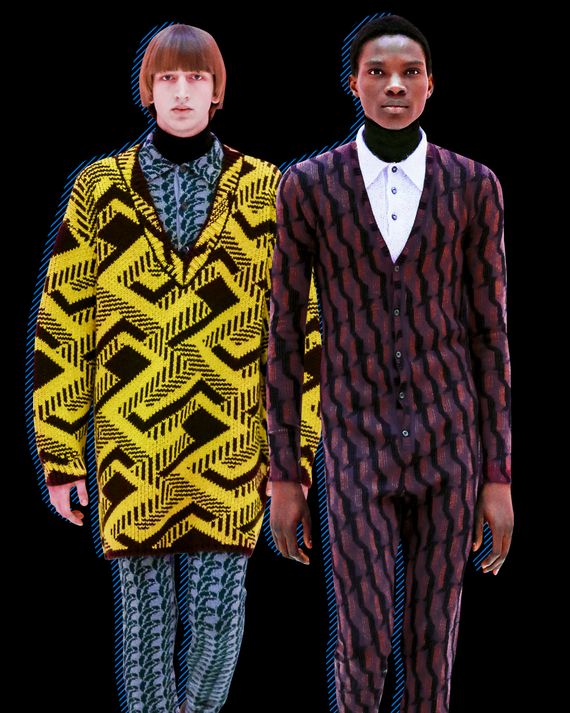 Photo-Illustration: Prada
From Milan this morning, Prada streamed its fall men's collection, our second chance to appreciate the combined genius of Miuccia Prada and Raf Simons. Although there have been heaps of shows during this pandemic year, some quite ambitious in their use of technology (I think of Balenciaga's VR show), we nonetheless care a little more about what Prada does. That's partly, if not largely, due to Mrs. Prada herself, the legacy of her wayward imagination. If there's ever been any doubt that the subject of Prada is Mrs. P — what fascinates her, what amuses her — it should have been cleared up today when the lady said, in a post-show Q&A, "I never did anything for anybody." She did it for herself. And though she now shares the job with Simons, it's that nervy intuition, shaped by intelligence, that still keeps many of us interested.
On the whole, the collection works. It introduces the idea of a foundational garment — call it a onesie, a union suit, or a pair of long johns. The "suit," in a range of different knitted materials and patterns, appeared under conventional pinstriped suits, generously cut overcoats, trusty bombers, and big sweaters, for a streamlined, skinny-legged effect, with plain, thick-soled shoes as urban ballast.
Mrs. Prada said during a press conference that the long johns were Simons's idea, and he said that bodysuits were already standard gear — for runners, surfers — though that wasn't really the source. Indeed, the fit seemed to vary, from clingy to roomy-comfy, depending on the outfit. The main function of the long johns was to provide juxtaposition — to the rounded shapes of the coats and jackets, to a contrasting pattern or fuzzy texture. I assume they're unisex.
The clothes seemed slightly at odds with the glamour of Simons and Mrs. Prada's debut collection, for women, with its satiny clutch-front coats and kitten-heel shoes, rather like a woman dragging her adorable but indifferent college-age son to, well, a couture show. And where the women's collection was presented in an elegant room draped with curtains, with digital monitors serving as a kind of chandelier, the men's show took place in a series of colorful, faux-fur lined rooms — part nest, part club, part Pee Wee's playhouse. Many of the models wore Buster Brown cuts.
I did miss the older, bookish men who occasionally filled out a Prada show. But my main peeve was that the clothes were not particularly erotic, in spite of the long johns. Wouldn't you think that such a garment, linked to all kinds of masculine figures over the centuries, would whip up a little sexual fantasy in 2021?
But, no. It's as though the designers were fixated on the design, the idea, and not the effect — which is ironic, given the long history of men in tights (back to the early 1300s) and the evolution of the modern suit as traced by historians like the late Anne Hollander.
No designer in recent times has dealt more intriguingly with sexuality than Mrs. Prada. Think of the famous 2005 show with Doutzen Kroes and Lara Stone, which provoked amazing discussions online for days. Or her 2012 men's presentation with Willem Dafoe and Gary Oldman. Part of the erotic blankness of this latest show — not awkward, not neutral, just blank — might be a result of the casting. The bodies were too uniformly similar — that is, noodly thin. Greater physical differences might have induced wonder and delight. Another explanation for the muffled sexuality may be the current situation — the lockdowns across the world, the gloom, and, at the same time, the reports of secret parties and raves that bluntly ignore social distancing. A few of the models in today's Prada show may have been spontaneously dancing (so we were told), but for real intoxication, we'll just have to wait.