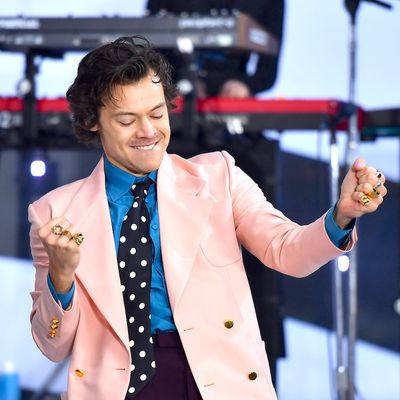 Moi.
Photo: ANGELA WEISS/AFP via Getty Images
Hello and welcome to 2021: We currently find ourselves on day four, with an embarrassment of celebrity-gossip riches raining down upon our heads. The writing was arguably already on the wall in the final weeks of 2020, which gave us the Hilaria-Hillary Baldwin affair; escalating rumors of a romantic relationship between Rihanna and A$AP Rocky; a percolating feud between Cardi B and Peppa Pig (who, despite being a cartoon, also beefed with Stanley Tucci last year); and news of Ariana Grande's engagement to her newish boyfriend. The pace had quickened! The stage was set! And now, we have a whole buffet of hot goss sprawling out ahead.
Let us begin.
I don't know if you heard but Harry Styles reportedly has a new girlfriend — Olivia Wilde.
On Monday, whispers of an auspicious partnership began circulating online. The paps had captured whimsical imp Harry Styles marching toward his close friend–slash–agent's wedding, hand-in-hand with Olivia Wilde — director of the forthcoming film Don't Worry Darling, in which Styles stars. Ooh la la!
Wilde and former fiancé Jason Sudeikis reportedly ended their seven-year engagement early last year, and have since transitioned to "amicable" (really they seem very amicable!) co-parents, per People. Also per People, Styles and Wilde "have dated for a few weeks," "were affectionate around their friends, held hands and looked very happy." Us Weekly's sources add that Styles referred to Wilde as his girlfriend while officiating the ceremony. Big congrats to the happy couple! Huge!
Meanwhile, Azealia Banks and Aimee Song are airing their DM feud.
It appears rapper Azealia Banks and fashion blogger Aimee Song have been beefing in their DMs — possibly since Banks called Lana Del Rey "fat girl" back in July? Unclear! But Banks and Del Rey have long harbored (well-publicized) animosity for one another, and Banks has a well-documented history of verbally gutting her critics. Song proved no exception: Based on screenshots of their Instagram interaction, Banks called Song a "human pashmina," among many other offensive and bigoted things, after Song slid into her DMs to chastise her for "fat shaming" Del Rey. (And suggested Banks was a "one hit wonder," ouch.) Both parties have been posting photos of the exchange, compiled here by Just Jared. Chaos reigns!
Also, two influencers reportedly have beef after both of them named their babies "Baby"…
Well, one actually named her baby Baybi, but I think the creativity only adds texture. Anyway, in one corner, we have Australian model Jessica Hart, who gave birth to Baby-Rae Hart on November 17. "I first heard it in the movie Dirty Dancing and always thought I'd love to name my daughter Baby," Hart explained the choice of monikers to People. "I was hesitant to ask James [her fiancé] about it at first but we just weren't landing on a name. Finally, probably a month before she was born, I said what about Baby, and he said, 'Oh my gosh, I love it.' It's felt right ever since."
In the other corner, we have Sasha Benz, an Instagram personality whose camp holds that Hart effectively stole her intellectual property. Benz and her partner, DJ Oli Benz, welcomed their own baby girl — Baybi Blue Benz — in March 2018. As Benz's friend told the Sydney Morning Herald, Hart only made her baby-naming intentions clear a week before the birth, assuring Benz everything was fine because the names would be "spelt differently." Nonetheless, the source said, "Sasha was devastated that her close friend would copy her daughter's 'unique' name, especially after she'd [Hart] gone to her [Benz] for name ideas." Benz subsequently clarified to the Daily Mail Australia that the pair had "chatted it out" and restored their friendship, while someone from Hart's team reportedly maintained that Baby "has always been on [Hart's] list of names, before she even knew Sasha and her baby." Beautiful! Just beautiful.
Zoë Kravitz has filed for divorce from Karl Glusman.
Zoë Kravitz's rep confirmed to People over the weekend that the actor has filed for divorce from her fellow-actor husband, Karl Glusman, after one and a half years of marriage. This news in and of itself is not so noteworthy — the pandemic reportedly saw a spike in breakups — but what did raise eyebrows was the rumor that briefly circulated afterward: Zoë Kravitz … dating Channing Tatum, whom you may remember from this photo and also Magic Mike?? Absolutely WHAT if true!!
According to E! News, however, this one is not true: On Monday, the outlet reported that it had "exclusively learned Zoë and Channing are not dating," and Kravitz remains single. But it was a fun celebrity gossip unit while it lasted.