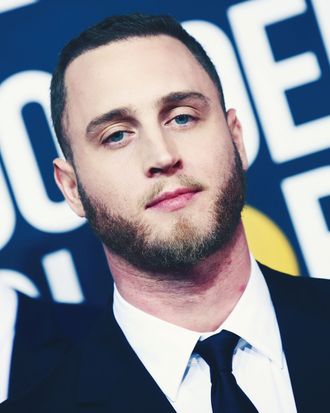 Chet.
Photo: Shutterstock
Chet Hanks — a.k.a. rapper Chet Haze, a.k.a. Chester Marlon Hanks, the 30-year-old son of actors Tom Hanks and Rita Wilson — is up to something.
Perhaps you remember Chet from the Golden Globes last year, when he went viral for inexplicably speaking in a Jamaican accent on the red carpet. ("Big up, big up! The whole island massive. It's ya boy Chet coming straight from the Golden Globes. You see, my father, Tom Hanks, is presenting an award, soon forward come. Big up, tune in!") Or perhaps, if you're a real Chet-head, you remember him from his earlier work, a remake of Wiz Khalifa's "Black and Yellow," that he recorded during his time at Northwestern University, which he called "White and Purple (Northwestern Remix)".
Anyway, Chet has been teasing a new project on Instagram, and according to a video he posted on Inauguration Day, we're only one to two weeks away from finding out exactly what it is. He gave us a little teaser, though:
"If you're an actor, if you've ever thought about being an actor, if a career in acting in something that you've ever been interested in, you need to hit the link in my bio right now, and pre-register what I'm about to drop."
He concluded: "Welcome to the Actor's Advantage."
The link in Chet's bio takes you to theactorsadvantage.com where you can indeed register for … something. Presumably some sort of acting class. The form on the page requires you to fill out your name, email, phone number, level of acting experience, and what you hope to get out of the mystery program.
It's unclear what sort of classes the Actor's Advantage will be offering, or whether Chet will be teaching any himself. (He's made acting appearances in shows like Shameless and Empire.) Based on this one tweet after Chet's Golden Globes appearance, it seems unlikely the program will cover much Shakespeare.
MasterClass has yet to comment on its new competitor.