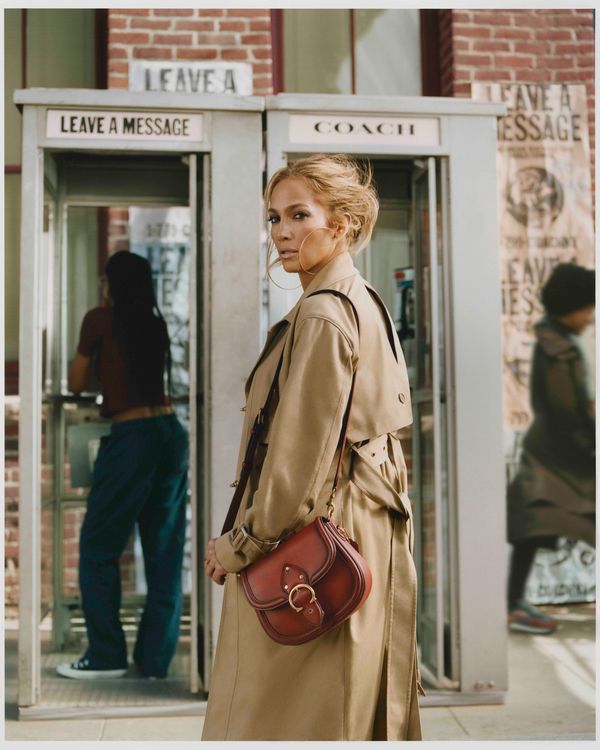 To start the year off right, here's a simple suggestion: Call someone you love. For its spring 2021 campaign, Coach is reminding us of the importance of recognizing the people in our lives who make us who we are.
The campaign, shot by photographer Renell Medrano and styled by Olivier Rizzo, is called "Coach It Forward" and stars J.Lo, Michael B. Jordan, basketball player Jeremy Lin, Chinese actress Yang Zi, and Japanese model Kōki. In the video, each person enters a Coach-branded telephone booth to say thank you to friends and family who have inspired and supported them.
So often we are going through the day-to-day motion of life without properly taking a moment to acknowledge the people who drive change in optimism in our lives, community, and the world," said J.Lo in a statement. "Coach It Forward to me means to pay it forward and to be grateful. I'm thrilled that I had this opportunity to recognize my family and my chosen family of creatives, collaborators, thinkers, doers, and friends who have had such a positive impact on my life."
Jordan added, "When you step back, you see that we're all the sum of the people who have helped us along. I think of my mom and dad, my family, friends, the people I work with, and how they have all supported me and inspired me. I loved having this opportunity to lift up people who are important to me and recognize how their passion and positivity have moved my world forward."
Anyone can participate in the campaign. A phone number, 1-779-COACHNY, flashes onscreen at the end of the video, prompting viewers across the world to voice their messages of gratitude, which will appear on the brand's social channels, in stores, and on the brand's website. Or just pick up the phone, call someone directly, and tell them how much they mean to you. We could all use some love these days.
Watch the campaign below.