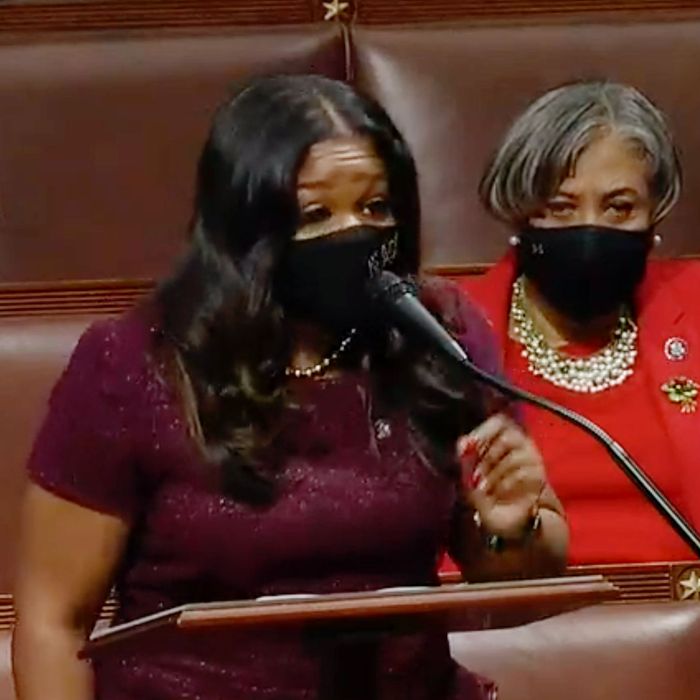 Missouri Rep. Cori Bush.
Photo: C-SPAN
As members of the U.S. House of Representatives met Wednesday to debate a second impeachment of Donald Trump — who, last week, encouraged swarms of his supporters to protest President-elect Joe Biden's certification in Congress, precipitating an armed siege of the Capitol — Missouri representative Cori Bush got straight to the point.
"If we fail to remove a white-supremacist president who incited a white-supremacist insurrection," she addressed House Speaker Nancy Pelosi, "it's communities like Missouri's First District that will suffer the most."
On January 6, as a horde of Trump supporters stormed the Capitol building, smashing property, looting, and threatening violence, Bush — a progressive freshman who represents St. Louis — began drafting a resolution calling for the expulsion of those in Congress who supported reversing the outcome of the 2020 election. Given that the Capitol riot grew from a "Stop the Steal" rally the president had urged on earlier that day, and given that the U.S. Constitution calls for a "peaceful transition of power," Bush argued that the over 120 representatives and 13 senators who supported Trump's last-ditch power grab may have violated their oaths.
"The 117th Congress must understand that we have a mandate to legislate in defense of Black lives," she said in her comments to Pelosi. "The first step in that process is to root out white supremacy, starting with impeaching the white-supremacist-in-chief."
She then yielded the rest of her time, taking less than 30 seconds to say all that needs to be said. And then, as if intent on proving her point, a number of her colleagues booed her for it.
Nonetheless, in the end, the House voted 232 to 197 in favor of Trump's removal, making him the first president to have been impeached twice.
This article has been corrected to clarify that the final impeachment vote was 232 to 197, rather than 223 to 205 as previously stated.