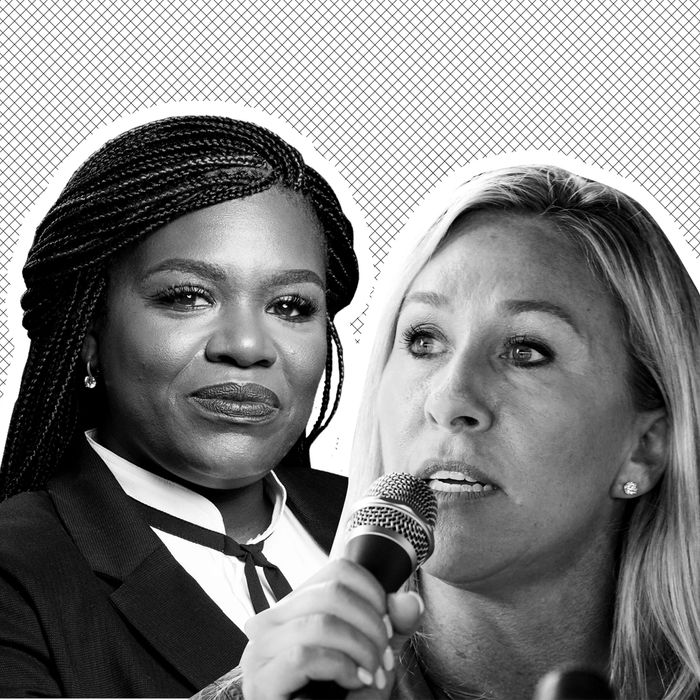 Cori Bush and Marjorie Taylor Greene.
Photo-Illustration: by The Cut; Photos: Cori Bush/Facebook, Getty Images
Missouri congresswoman Cori Bush announced on Friday that, for safety reasons, she is having her office moved away from that of Marjorie Taylor Greene, the QAnon-supporting congresswoman who has "liked" numerous Facebook posts about executing prominent Democratic politicians, and with whom Bush reportedly had a confrontation in a Capitol Hill hallway earlier this month.
"A maskless Marjorie Taylor Greene & her staff berated me in a hallway. She targeted me & others on social media," Bush wrote in a tweet on Friday. "I'm moving my office away from hers for my team's safety."
In a statement posted to Twitter later, Bush said that the confrontation in question took place on January 13, when she and her staff crossed paths with Greene in a tunnel between the Cannon Office Building and the Capitol. Greene was speaking into a phone, unmasked. "This took place one day after multiple of my House colleagues announced they had tested positive for COVID-19 after being in a room with Taylor Greene during the white supremacist attack on the Capitol," Bush wrote.
When Bush told her to put on a mask, Greene and her staff reportedly began "berating" Bush and her team, with one of Greene's staff allegedly yelling, "Stop inciting violence with Black Lives Matter."
Bush said that this incident, in addition to Greene's previous Twitter attacks on her and the Georgia congresswoman's support for Facebook posts about killing Democrats, "is cause for serious concern" and led her to ask that her office to be moved from the Longworth office building where Greene works.
The move, a Pelosi rep told CNN, "was by the direct order of the Speaker upon request from Bush."
Bush's announcement comes amid calls for Greene to be expelled from Congress due to her history of violent and hateful rhetoric. Earlier this week, California representative Jimmy Gomez said he would introduce a resolution to expel Greene from the chamber. Such an expulsion seems unlikely, though, given that it requires a two-thirds majority to vote a congressperson out, and most Republicans have not spoken out against Greene.
"This is a red flag!" Minnesota representative Ilhan Omar tweeted in response to Bush's announcement. "Imagine going to work with an armed hostile unstable colleague and not having much recourse."
She added that Bush moving offices "doesn't mitigate the threat."
"I am afraid inaction from Congressional leadership has the potential to lead to physical harm."