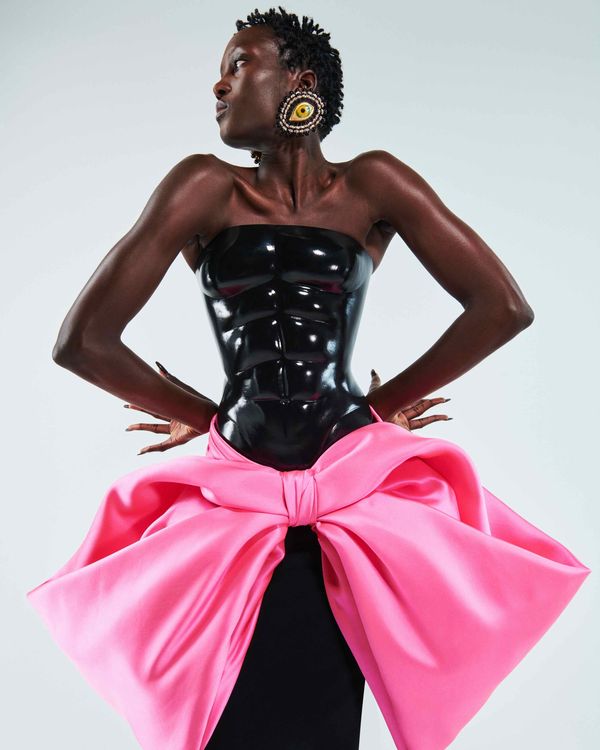 Photo: Courtesy of Schiaparelli
In a world where ready-to-wear seems increasingly laid-back to match the current state of pandemic dressing, it's exhilarating to witness the wild freedom of couture. Today was the first day of the spring 2021 couture shows, and Schiaparelli, Dior, and Iris van Herpen pulled out all the stops.
Last week, many of us were invigorated watching Lady Gaga serenade the country in a custom Schiaparelli gown — just one of the outfits that made us excited about fashion in the White House. Schiaparelli is having a moment, and all eyes are on creative director Daniel Roseberry. His spring 2021 collection may not work for an inauguration, but it certainly reflects the spirit of Gaga, a pop star who's fascinated by pushing the limits of the human body.
Apparently, Roseberry also has a thing for anatomy. The collection included a gold breastplate of a breastfeeding baby, tooth earrings made with pearls, gold toes on the tips of shoes, and a couture revival of his six-pack bustier. (The last of which effectively abolished the need for working out — who needs the gym when you can have couture?) The clothes are incredibly intricate: A padded body-con dress, for instance, is embellished with thousands of bugle beads in Schiaparelli's signature electric pink, mimicking ripped abs, traps, and biceps.
It's all ripe for meme making, but Roseberry wanted to make a bigger statement: to challenge the idea of couture as a space for "polite garments" and "dresses as inoffensively pretty as something from a fairy tale." For him, the fantasy is within. "These are clothes that make you aware of the fact of your body, that make you think about how you move through the world," he explained in the show notes. "Elsa Schiaparelli encouraged a childlike, unneurotic exploration of the human form. Hers were garments meant to celebrate the joy of peacocking, the joy of showing off."
Dior's Maria Grazia Chiuri, however, is completely, unapologetically entrenched in fairy tale, and she appeals to the Bridgerton-obsessed with her spring 2021 couture collection. This season, sadly, there are no horny tree nymphs, but there are personifications of the Major Arcana in tarot decks, like the High Priestess, the Empress, Justice, and the Fool. In the presentation video above, by Italian director Matteo Garrone, a rather somber, contemplative French girl in all black asks, "Who am I?" when prompted by an elderly tarot reader. Obviously, this leads to a journey in a castle where she meets the arcana wearing Dior couture. (Spoiler alert: It all ends with the girl making out … with herself.)
And then there was Dutch designer Iris van Herpen's spring 2021 show, titled "Roots of Rebirth." Known for combining craftsmanship with technologies like 3-D printing, she added elements of nature and an experimental pop star, Sevdaliza, to the mix for 2021. In this collection and in life, mushrooms are the answer — the "wood-wide web," as van Herpen puts it, which is a microcosm of our functioning society. Pleating resembled mushroom gills, and silhouettes and embellishments were inspired by mycelium, the intricately branching roots of fungi.
Tomorrow, we'll get collections from Chanel and Valentino. Here's hoping for more magic, more mushrooms, and more big swings.