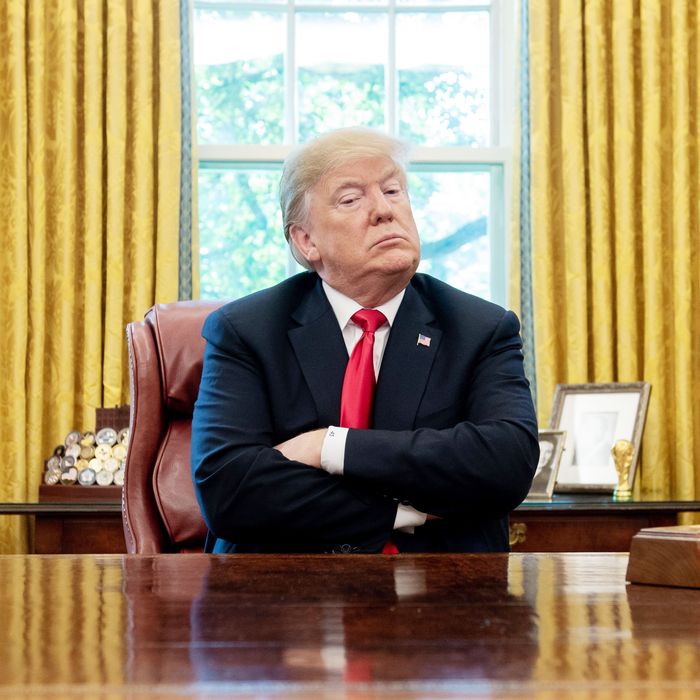 No more Cokes.
Photo: SAUL LOEB/AFP via Getty Images
In his first 24 hours as president, Joe Biden expediently set about dismantling Donald Trump's legacy: He rejoined the Paris climate accord and set the reversal ball rolling on some of his predecessor's more damaging environmental policies. He halted construction on the border wall and reestablished DACA protections. He recommitted the United States to the World Health Organization. He also, apparently, removed a button in the Oval Office that Trump had used specifically to request Diet Coke deliveries, a premium feature that ensured unfettered access to cool and refreshing beverages on demand.
That's according to broadcast journalist Tom Newton Dunn, who tweeted some compelling photo evidence of the button's disappearance on Thursday. "President Biden has removed the Diet Coke button," he announced. According to Dunn, he and a colleague had spotted the button during a 2019 interview with the then-president and wondered what it could be. "Eventually Trump pressed it," Dunn recalled, "and a butler swiftly brought in a Diet Coke on a silver platter."
I think I speak for everyone when I say, !!!!
Or at the very least, I speak for those people who, like me, spent the past four years somehow ignorant of the button's existence. It reportedly became common media knowledge in 2017, when a Financial Times journalist caught sight of it in an interview. Per Gizmodo, the exchange went like this:
Sitting across from Donald Trump in the Oval Office, my eyes are drawn to a little red button on a box that sits on his desk. "This isn't the nuclear button, is it?" I joke, pointing. "No, no, everyone thinks it is," Trump says on cue, before leaning over and pressing it to order some Cokes. "Everyone does get a little nervous when I press that button."
Wow! Let's lean in for a closer look.
According to The Hill, former White House staffer Cliff Sims wrote in his book, Team of Vipers, that Trump used the nuclear-button joke a lot. Sims reportedly said that Trump — who is said to consume as many as 12 Diet Cokes daily — would lead visitors to believe his cola bell had far more sinister capabilities: "[O]ut of nowhere, he'd suddenly press the button," Sims notes in the book. "Not sure what to do, guests would look at one another with raised eyebrows. Moments later, a steward would enter the room carrying a glass filled with Diet Coke on a silver platter, and Trump would burst out laughing."
I have to say, purely from the perspective of afternoon snacking, the Diet Coke button feels like the sole remnant of Trump's time in office that's possibly worth preserving. According to the Associated Press, it's a feature "presidents have used for decades," though presumably for purposes other than summoning a dozen sodas a day. Why not keep it and use it to ask for a chilled orange Gatorade (purportedly Biden's favorite drink) or an ice-cream cone (possibly Biden's favorite thing, full stop) or coffee or exactly seven almonds? Executive powers, baby.