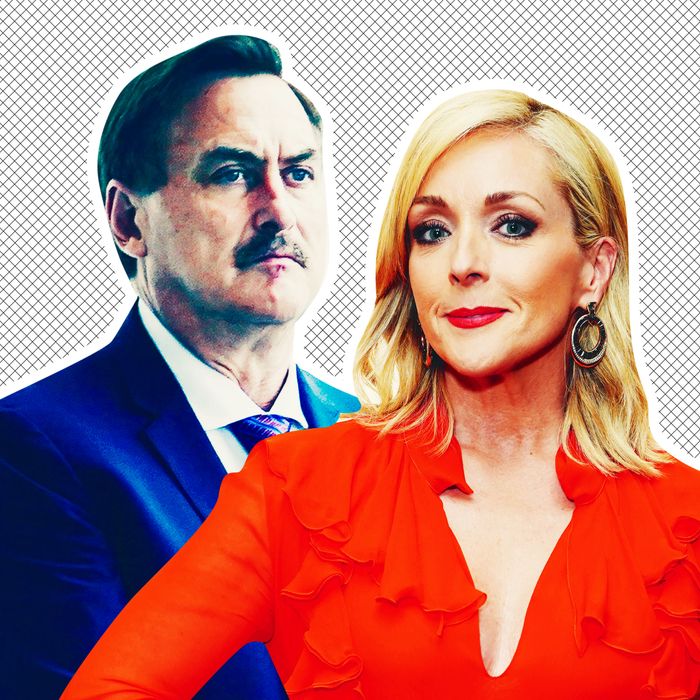 Illustration: by The Cut; Photos: Getty Images
On Thursday, the Daily Mail published what appeared at first glance to be a spec script for Tina Fey's defunct NBC comedy 30 Rock but turned out to be a real — although largely unsubstantiated — report: It claimed that Jane Krakowski, the actress who played the self-obsessed actress Jenna Maroney on 30 Rock, briefly dated Mike Lindell, the Trump-loving, martial-law-advocating CEO of MyPillow.
Excuse me, what?
Although I knew who both of those people were separately, the act of trying to picture them together in a room, or even just thinking about them in quick succession, required that my brain form entirely new neural pathways, a physically and mentally strenuous process that left me feeling dazed.
This was, it seemed, a common reaction:
Krawoski has vehemently denied the relationship, and says she and Lindell have never even met. So where does this story come from? Who's to say? According to the narrative constructed by one of the Daily Mail's unnamed sources, Krakowski and Lindell's nine-month romance was an "open secret" in the West Village, and "it surprised many of Jane's friends because she's such an icon in the gay community, but here she is dating one of Trump's biggest business backers."
Another source, who spoke "on condition of anonymity," said that Lindell wooed Krakowski by sending "flowers to her almost every week and Champagne and bottles of different liquor."
Perhaps the wildest allegation in the piece is that Krakowski is in part to blame for Lindell's further descent into the world of MAGA conspiracy theories. (On Monday, voting-machine manufacturer Dominion Voting Systems threatened to sue Lindell for participating in a "vast and concerted misinformation campaign" about the integrity of the 2020 election, a lawsuit Lindell told CBS News he would "welcome.") As a source put it: "Maybe if they'd stayed together he would've focused on Jane rather than trying to question the outcome of the election and advise President Trump on martial law."
When reached for comment by the Daily Mail, Krakowski said that she had never met the lumpy pillow monger, and Lindell replied: "I have never even heard of Jane Krakowski???"
Krakowski's rep later added in a statement: "Jane has never met Mr. Lindell. She is not and has never been in any relationship with him, romantic or otherwise. She is, however, in full-fledged fantasy relationships with Brad Pitt, Regé-Jean Page, and Kermit the Frog and welcomes any and all coverage on those."
Lindell also told the Daily Beast that his lawyers are "going after" the Daily Mail.
This post has been updated.