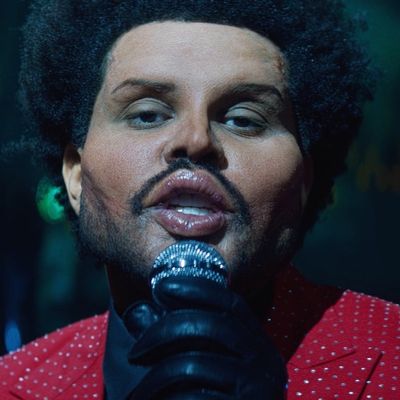 Yesterday, the Weeknd released a new music video for "Save Your Tears," in which he performs in a gloomy cathedral wearing his 2020 uniform: red blazer and murder-y leather gloves. But there's also something weird about his face: he's got oversized, wonky cheek implants, over-filled, over-chiseled everything else. It almost seems as if he's undergone serious facial reconstructive surgery — the botched, billionaire-socialite kind.
And no one seems to be sure if it's legit or not. The singer has shown up with his face swathed in various degrees of gauze over the course of the past year: He performed on Jimmy Kimmel Live! with a bandaged nose, had a bruised and bloodied face at his September VMAs performance, and showed up at November's AMAs with most of his head swaddled.
So, what's going on here? Celebs have done wilder things, and it wouldn't be out of turn for a wealthy, enigmatic musical artist to get a full face lift. I wondered, at first, if it was part of his whole Michael Jackson mythmaking thing — the singer has long channeled Jackson, citing his influence in his work and life, and is frequently compared to him. Some fans have even suggested that aggressive plastic surgery could be a hysterical jab at his ex, Bella Hadid.
But, as it turns out, the Weekend seems to be playing a character based on his latest studio album, After Hours. In the way that Sacha Baron Cohen has Borat, the Weeknd has crafted this sort of dead-eyed, inscrutable performer persona to illustrate the damages of excess.
At least, that's what it seems like. The videos he's dropped since the album's release at the end of 2019 have all revolved around a storyline of a performer whose life of excess quickly devolves into one of chaos, madness, and soul-sucking narcissism (you can read a deep dive about the music videos' entire cinematic universe here). They're themes that have always been present in The Weekend's work, especially his early stuff, but now he seems to be buttressing the story by playing his character in real life.
So yes, the Weeknd just has prosthetics for now, and good ones thanks to Prosthetic Renaissance — the people behind Heidi Klum's famed Halloween costumes. That said, he's set to perform at the Superbowls half-time show in February, so we'll get to see where the story goes next.