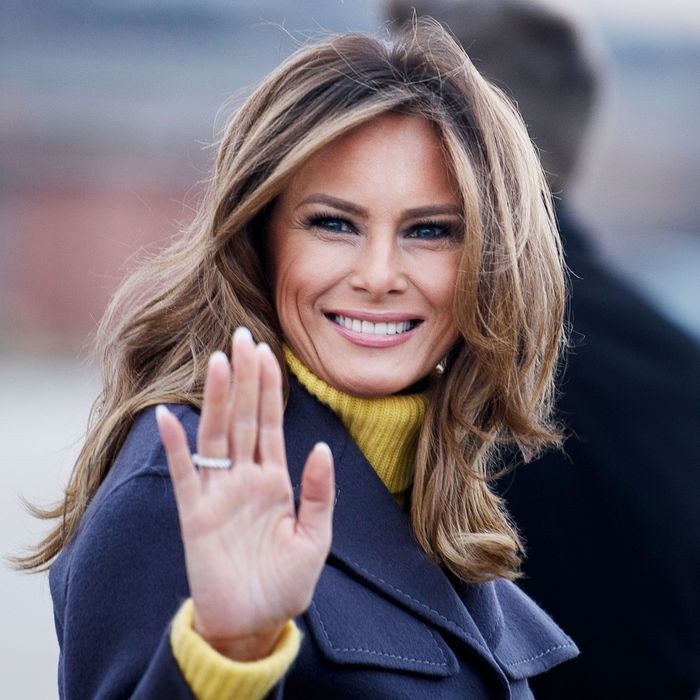 Melania Trump.
Photo: BRENDAN SMIALOWSKI/AFP via Getty Images
While a mob of Trump supporters descended on the Capitol on Wednesday in a violent riot that that left five people dead, First Lady Melania Trump was a couple of blocks away, trying to get a good shot of some White House rugs.
According to a new report by CNN, as news and images of the attack began to circulate, reporters and White House staff alike wondered whether the First Lady might issue a call for peace and calm, as she had during the Black Lives Matter protests this summer. But the First Lady had nothing to say about the riot. She was more concerned with getting her photoshoot completed, potentially, CNN notes, for a coffee-table book "about decorative objects she has amassed and had restored in the White House."
Melania is apparently "checked out," one White House source said. So checked out, it seems, that she didn't want to think about or wade into news coverage of the deadly insurrection her own husband had called for earlier in the day. "She just isn't in a place mentally or emotionally anymore where she wants to get involved," the source said.
It's not particularly surprising to hear about the First Lady displaying such self-centered callousness in the midst of a crisis. Consider the recordings Melania's former adviser and current nemesis Stephanie Winston Wolkoff recently made public when she published her tell-all book Melania and Me: When asked to answer for her husband's cruel family-separation policy that ripped children from the arms of their parents and guardians at the border, the First Lady responded, "Give me a fucking break." In fact, when it came to her husband's attempt to undermine the U.S. Democratic process, Melania's response could best be summed up in the infamous trolling words of the coat she wore to visit detained immigrant children at the border: "I don't really care. Do U?"
Well, hopefully she got a good shot of that carpet.