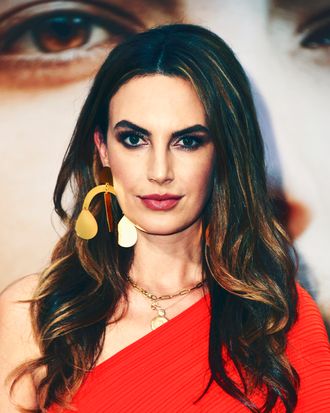 Elizabeth Chambers
Photo: Frazer Harrison/Getty Images
Well, it's certainly been a month for Armie Hammer. Earlier in January, the actor made sensational headlines after alleged screenshots of his Instagram DMs began circulating online in which he seemed to describe violent sexual fantasies that involved rape and cannibalism. Then two of Hammer's exes came forward individually to speak about their respective relationships with him, characterizing Hammer as a violent and emotionally and psychologically manipulative partner.
Throughout it all, the actor has vehemently defended his character. He decried the DMs as "bullshit," and following the second on-the-record allegation from an ex, his representative told "Page Six" that "any interactions with this person, or any partner of his, were completely consensual in that they were fully discussed, agreed upon, and mutually participatory."
Notably reticent amid the mounting claims against Hammer has been someone who presumably knows him better than most: his ex-wife, the 38-year-old actress and entrepreneur Elizabeth Chambers. Her silence is understandable. After a 13-year relationship that included a 10-year marriage, the couple parted ways last year; Chambers's divorce filing attributed the split to "irreconcilable differences." While both Hammer and Chambers kept their intentions largely private, months later, reports emerged that Chambers had been the one to call off the relationship, after she found "passionate texts" on Hammer's phone.
Now, finally, Chambers has spoken. Yesterday, pop-culture outlet Just Jared posted a photo on Instagram announcing that Timothée Chalamet, Hammer's Call Me by Your Name co-star, was in talks to reunite with director Luca Guadagnino for a new film. Said film, titled Bones & All, happens to be an adaptation of a book by the same name, which is a coming-of-age story centered on … a teenage cannibal.
Chambers had just two words — or, arguably, none at all — to say about that. "No. Words," she commented under the photo of Hammer, Chalamet, and Guadagnino. While Just Jared emphasized that Hammer is not involved in the movie, the timing of all this is certainly uncanny, seeing as Hammer's alleged DMs included statements like "I need to drink your blood" and "I am 100% a cannibal." While Chambers's comment doesn't exactly elucidate how she's processing the claims against her ex-husband, at the very least, we can assume she disapproves of this new creative endeavor, whether or not the timing is coincidental.
Meanwhile, Hammer has apparently dropped out of yet another project. Last night, Variety reported that Hammer was exiting Paramount+'s The Godfather miniseries, The Offer, in which he was slotted to play the leading role. Wonder how that decision came to be made.